Complete List of Tire DOT Plant Codes – With All Old and New Plant Codes
Posted by Wetherington Law Firm | Articles
Tire DOT Codes – 2021 Edition
This page contains a complete list of all tire plant codes.  The list is sortable and searchable.  This data was originally hosted by the Tire Safety Group.  Our firm's founder, Matt Wetherington created the Tire Safety Group to help educate and empower consumers.  The Wetherington Law Firm handles tire failure and other personal injury claims involving serious injuries throughout the United States.  We cannot assist with warranty claims or other matters that do not involve personal injury.
How to Find a Tire's DOT Code
Every tire sold in the United States has a DOT code stamped on the side.  A complete tire DOT code will begin with the letters DOT and is followed by 10-12 letters and numbers.   Some tires have a partial DOT code on one side and a full DOT code on the opposite side.  A complete DOT code will always end in four numbers.  The last four numbers indicate the date the tire was made and will also tell you the expiration date of the tire. If your full DOT code ends in only three numbers, the tire was manufactured prior to 2000 and must be replaced.   The following letters are generally not used in tire DOT codes: G, I, O, Q, S, and Z.
How to Read a Tire DOT Code
The tire DOT code identifies the plant where the tire was manufactured, the size of the tire, the manufacturer options for the tire, and the date it was manufactured.  This page translates the plant code into the actual plant where the tire was manufactured.  Most tires manufactured prior to 2015 have a two-digit plant code.  New tires have a three-digit plant code.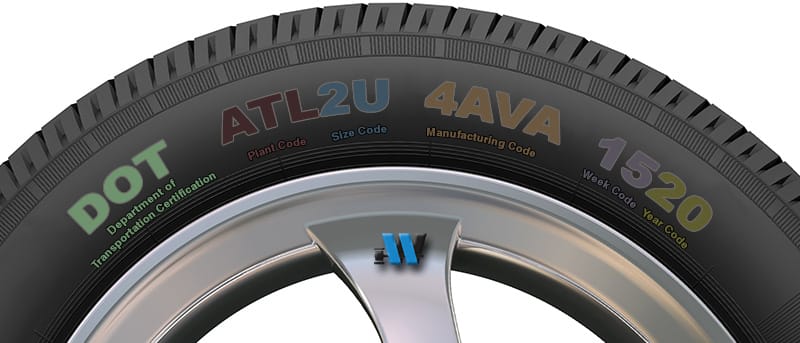 Last Update:  January 11, 2021
| Old Code | New Code | Manufacturer | City / Province | Country |
| --- | --- | --- | --- | --- |
| | 000 | KUMHO TIRE GEORGIA INC. | MACON, GEORGIA | UNITED STATES |
| E0 | 1E0 | CHONGGING HENSION GROUP | JIULONGPO DISTRICT, CHONGQING, | CHINA |
| | 001 | QINGDAO FLEMING TYRE CO., LTD. | QINGDAO, SHANDONG | CHINA |
| | 002 | QINGDAO DEJI WHEEL CART CO., LTD. | QINGDAO, SHANDONG | CHINA |
| | 003 | WENLING YAODING MACHINE CO., LTD. | WENLING CITY, ZHEJIANG | CHINA |
| | 004 | SHANDONG CHANGSHENG RUBBER CO.,. LTD. | GAOMI, SHANDONG | CHINA |
| | 005 | QINGDAO TAIHANG TYRE CO., LTD. | MINGCUN TOWN, PINGDU, QINGDAO | CHINA |
| | 006 | GUANRAO YONGFENG RUBBER CO., LTD. | GUANGRAO COUNTY,DONGYING CITY, SHANDONG | CHINA |
| | 007 | QINGDAO HAORUN HAND TRUCK CO., LTD. | JIAONAN,QINGDAO, SHANDONG | CHINA |
| | 008 | SIAMTRUCK RADIAL COMPANY LIMITED | BANGLANE, NAKOMPATHOM | THAILAND |
| | 009 | TIANJIN HUGE DRAGON TIRE CO., LTD. | JINNAN, TIANJIN | CHINA |
| E1 | 1E1 | CHUNG HSING INDUSTRIAL CO., LTD | TAIPEI, TAICHUNG HSIEN | TAIWAN |
| | 010 | ASEAN TIRE COMPANY, LIMITED | TIEN DU, BAC NINH | VIETNAM |
| | 011 | SHANDONG HONGSHENG RUBBER TECHNOLOGY CO., LTD. | DONGYIING CITY, SHANDONG PROVINCE | CHINA |
| | 012 | ASSOCIATED CEAT (PVT) LIMITED | KELANIYA, | SRI LANKA |
| | 013 | JIANGSU SANYUAN TIRE CO., LTD. | SUQIAN, JIANGSU | CHINA |
| | 014 | SHANDONG OKLOONG RUBBER TECHNOLOGY CO., LTD. | WEIFANG CITY, SHANDONG | CHINA |
| | 015 | HENAN SHENGBANG TIRE CO., LTD. | HUIXIAN, HENAN | CHINA |
| | 016 | WPI GLOBAL, LTD. | SHENZHEN CITY, GUANGDONG | CHINA |
| | 017 | PT. MAXXIS INTERNATIONAL INDONESIA | BEKASI, WEST JAVA | INDONESIA |
| | 018 | QINGDAO MOONSTAR VEHICLE CO., LTD. | QINGDAO, SHANDONG | CHINA |
| | 019 | QINGDAO JINGCHENG RUBBER PRODUCTS CO., LTD. | QINGDAO, SHANDONG | CHINA |
| | 020 | YOKOHAMA TIRE MANUFACTURER, LLC | WEST POINT, MISSISSIPPI | UNITED STATES |
| | 021 | Dongying Ruisheng Rubber Co. LTD. | Dongying, SHANDONG | CHINA |
| | 022 | Nanjing Kumho Tire Co., LTD. | Nanjing, JIANGSU | CHINA |
| | 023 | Hungary-Greenfield Plant | Gyöngyöshalász, HEVES | HUNGARY |
| | 024 | TIANJIN FEIYADA RUBBER PRODUCTS CO., LTD. | Tianjin, TIANJIN | CHINA |
| | 025 | BRIDGESTONE T.C.E. | Castel Romano, ROME | ITALY |
| | 026 | HEFEI WANLI TIRE CO., LTD. | Hefei, ANHUI | CHINA |
| | 027 | AKSARAY | Aksaray, AKSARAY | TURKEY |
| | 028 | FUTURE TYRES PRIVATE LIMITED | KALOL, GUJARAT | INDIA |
| | 029 | YANCHENG LUXEWAY TIRES CO., LTD. | Yancheng, JIANGSU | CHINA |
| | 030 | SHIH FA RUBBER INDUSTRIES (VN) CO., LTD. | Ho Chi Minh, | VIETNAM |
| | 031 | JIANGSU DUHOW RUBBER CO., LTD. | Shuyang, JIANGSU | CHINA |
| | 032 | QINGDAO GE RUI DA RUBBER COMPANY (GRT) | Qingdao City, SHANDONG | CHINA |
| | 033 | IRIS | SETIF, SETIF | ALGERIA |
| | 034 | JINING SHENZHOU TYRE CO., LTD. | Jining, SHANDONG | CHINA |
| | 035 | NEXEN TIRE EUROPE S.R.O. | Praha 5, SMICHOV | CZECH REPUBLIC |
| | 036 | Continental Tyres Thailand - Rayong | Pluak Daeng, RAYONG | THAILAND |
| | 037 | MSTYRE INDUSTRIES SDN BHD | Menglembu Ipoh, PERAK | MALAYSIA |
| | 038 | HEBEI WANDA TYRE CO.,LTD | XINGTAI, HEBEI | CHINA |
| | 039 | QINGDAO WANSHIXING RUBBER & PLASTIC CO.,LTD | QINGDAO, SHANDONG | CHINA |
| | 040 | TOPMEGA INTERNATIONAL GROUP CO.,Ltd. | Sepon District, SAVANNAKHET PROVINCE | LAOS |
| | 041 | SHANDONG HABILEAD RUBBER CO.,LTD | Dongying City, SHANDONG | CHINA |
| | 042 | Andhra Pradesh Plant | Chinnapandur Village, Chittoor Distric, ANDHRA PRADESH | INDIA |
| | 043 | Kabat Tyre spólka z ograniczona odpowiedzialnoscia spólka jawna | Budzyn, WIELKOPOLSKA | POLAND |
| | 044 | ASIAN TIRE FACTORY LIMITED | Jalandhar, PUNJAB | INDIA |
| | 045 | General Rubber (Thailand) Co., Ltd. | Amphur Muang Rayong, RAYONG PROVINCE | THAILAND |
| | 046 | Qingdao Jingtai Rubber Products Co., Ltd | QINGDAO, SHANDONG | CHINA |
| | 047 | QINGDAO TULECHI RUBBER CO., LTD. | Qingdao, SHANDONG | CHINA |
| | 048 | EVERTHROUGH RUBBER PRODUCTS SDN BHD | PERAK, TAIPING | MALAYSIA |
| | 049 | MRF LTD | Dahej, GUJARAT | INDIA |
| | 050 | Tirevolution Enterprise Limited | Hong Kong, HONG KONG | CHINA |
| | 052 | SHANDONG ZHONGYI RUBBER CO.,LTD | DONGYING, SHANDONG | CHINA |
| | 053 | PYRAMIDS TIRES | PORT SAID, PORT SAID | EGYPT |
| | 055 | ADVANCE TYRE (VIETNAM) CO., LTD. | Tan Phuoc county, TIEN GIANG PROVINCE | VIETNAM |
| E2 | 1E2 | BRIDGESTONE DO BRAZIL INDUSTRIAL E COMERCIO LTDA. | SANTO ANDRE, SAO PAULO | BRAZIL |
| 01 | 101 | CHINA MANUFACTURERS ALLIANCE | VALENCIA, CALIFORNIA | UNITED STATES |
| 02 | 102 | CAOXIAN GUIDESTONE TYRE CO. LTD. | CAOXIAN, SHANDONG | CHINA |
| 03 | 103 | TANGSHAN LINGFENG TIRE CO. | TANGSHAN, HEBEI | CHINA |
| 04 | 104 | WENDENG SANFENG TYRE CO., LTD. | WENDENG CITY, SHANDONG | CHINA |
| 05 | 105 | BETICA COMERCIAL IMPORTADORA LTD. | SANTO ANDRE, SAO PAULO | BRAZIL |
| 06 | 106 | HIHERO CO., LTD. | PHATUM THANI, | THAILAND |
| 07 | 107 | RINALDI S/A INDUSTRIA DE PNEUMATICOS | Bento Goncalves, RIO GRANDE DO SUL | BRAZIL |
| 08 | 108 | AHCOF INTERNATIONAL DEV. CO., LTD. | HEFEI, | CHINA |
| 09 | 109 | PT ELANGPERDANA TYRE INDUSTRY | BOGOR, JAWA BARAT | INDONESIA |
| 10 | 110 | NANKANG RUBBER INDUSTRIAL, CO. LTD. | JIANGSU | CHINA |
| 11 | 111 | SHANDONG HAWK INTERNATIONAL RUBBER INDUSTRY CO. | LAIZHOU, SHANDONG | CHINA |
| 12 | 112 | QINGDAO SHENGDA TIRE MANUFACTURE CO., LTD. | QINGDAO, PINGDU CITY, SHANDONG PROVINCE | CHINA |
| 13 | 113 | QINGDAO HENGDA TIRE CO., LTD. | PINGDU, SHANDONG | CHINA |
| 14 | 114 | Cheng Shin Tire (Xiamen) Co., Ltd. | Xiamen, FUJIAN | CHINA |
| 15 | 115 | SHANDONG JINYU TYRE CO., LTD. | DONGYING, SHANDONG PROVINCE | CHINA |
| 16 | 116 | GOODTIME RUBBER CO, LTD. | AN TINK VILLAGE, TRAY BANG DISTRICT | VIETNAM |
| 17 | 117 | DA TSEN TYRE FACTORY | SHANGHAI, | CHINA |
| 18 | 118 | DONG HAI RUBBER FACTORY | SHANGHAI, | CHINA |
| 19 | 119 | QINGDAO TIANGCHI TIRES CO., LTD. | QINGDAO, SHANDONG | CHINA |
| 20 | 120 | Maxxis International (Thailand) Co. Ltd. | Amphur Pluakdaeng, RAYONG PROVINCE | THAILAND |
| 21 | 121 | ADKINS TIRE SERVICE | OAK HILL, OH | UNITED STATES |
| 22 | 122 | LLC MICHELIN RUSSIAN TYRE MANUFACTURING CO. | DAVIDOVO VILLAGE, DISTRICT OREKHOVO-ZUEVO | RUSSIA |
| 23 | 123 | GITI TIRE (CHONGQING) COMPANY, LTD. | JIULONGPO, CHONGQING | CHINA |
| 24 | 124 | JSC NIZHNEKAMSKSHINA | NIZHNEKAMSK, TATARSTAN | RUSSIA |
| 25 | 125 | SHANDONG YONGTAI GROUP CO., LTD. | DONGYING, SHANDONG | CHINA |
| 26 | 126 | MRL TYRES, LIMITED | Greater Noida, UTTAR PRADESH | INDIA |
| 27 | 127 | KUMHO TIRE CO., INC. PYEONGTAEK FACTORY | Pyeongtaek, GYEONGGI-DO | SOUTH KOREA |
| 28 | 128 | QINGDAO HONGGUANG CHEMICAL CO., LTD. | JIAOZHOU, SHANDONG | CHINA |
| 29 | 129 | GENERAL TRANSWORD MANUFACTURING CJSE | YEREVAN, | ARMENIA |
| 30 | 130 | COMMERCIAL TIRE SERVICE CO., INC. | DUBLIN, OH | UNITED STATES |
| 31 | 131 | BRIDGESTONE (WUXI) TIRE CO. LTD./WUXI | WUXI, JIANGSU | CHINA |
| 32 | 132 | BRIDGESTONE TIRE MANUFACTURING THAILAND CHONBURI | AMPHUR PANTHONG, CHONBURI | THAILAND |
| 33 | 133 | SICHUAN TYRE & RUBBER CO. LTD. | JIANYANG CITY, SICHUAN | CHINA |
| 34 | 134 | QINGDAO DALU PLASTIC CO., LTD. | QINGDAO, SHANDONG | CHINA |
| 35 | 135 | TRELLEBORG LANKA (PVT) LTD. | SAPUGASKANDA, MAKOLA, WP | SRI LANKA |
| 36 | 136 | MIDLAND SPECIALTY TIRE CO., LTD. | XUZHOU, JIANGSU | CHINA |
| 37 | 137 | ZAO CONTINENTAL TIRES OF MOSCOW | MOSCOW, | RUSSIA |
| 38 | 138 | QINGDAO TENGJIANG TYRE CO., LTD. | PINGDU, SHANDONG | CHINA |
| 39 | 139 | QINGDAO FUYUAN TYRE CO., LTD. | PINGDU CITY, SHANDONG | CHINA |
| 40 | 140 | SUPERKING MFRS.(TYRE) PVT.LTD. | GHAZIABAD, U.P. | INDIA |
| 41 | 141 | METRO TYRES OF NORTH AMERICA | LUDHIANA, PUNJAB | INDIA |
| 42 | 142 | XUZHOU HANDBAND TIRE CO., LTD. | XUZHOU, JIANGSU | CHINA |
| 43 | 143 | KYOTO JAPAN TIRE CORP. LTD. | BEIJING, | CHINA |
| 44 | 144 | QINGDAO XINGHUA GROUP CO., LTD. | JIAONAN, SHANDONG | CHINA |
| 45 | 145 | JISNG XI CHARIOT TYRE CO., LTD. | DE AN, JIANG XI | CHINA |
| 46 | 146 | CONTINENTAL SIME TYRES SDN BHD. DMIB BERHAD | 46050 PETALING JAYA, SELANGOR | MALAYSIA |
| 47 | 147 | YOKOHAMA TIRE MANUFACTURING (THAILAND) CO., LTD. | Amata City Industrial Park, AMPHUR PLUAKDANG | THAILAND |
| 48 | 148 | KOLSAN KOCAELI LASTIK SANAYI A.S. | KOCAELI, IZMIT | TURKEY |
| 49 | 149 | LAIZHOU LU QING RUBBER INDUSTRY CO., LTD. | LAIZHOU, SHANDONG | CHINA |
| 50 | 150 | SHANDONG SHENGTAI RUBBER GROUP CO., LTD. | DONGYING, SHANDONG | CHINA |
| 51 | 151 | PIRELLI TYRE CO. LTD. | YANZHOU, SHANDONG | CHINA |
| 52 | 152 | QINGDAO AONUO TYRE CO., LTD. | PINGDU CITY, QINGDAO, SHANDONG | CHINA |
| 53 | 153 | SAILUN JINYU GROUP CO., LTD. | Qingdao, SHANDONG | CHINA |
| 54 | 154 | MITAS A.S. | CZ-76531 OTROKOVICE, | CZECH REPUBLIC |
| 55 | 155 | QINGDAO YELLOWSEA TIRE CO., LTD. | JIAOZHOU, SHANDONG | CHINA |
| 56 | 156 | QINGDAO QIHANG TYRE CO., LTD. | QINGDAO, SHANDONG | CHINA |
| 57 | 157 | HWA FONG RUBBER (THAILAND) PUBLIC COMPANY LIMITED | MUANG, SAMUTRAKAN | THAILAND |
| 58 | 158 | ZHEJIANG QINGDA RUBBER CO., LTD. | YONGKANG CITY, ZHEJIANG PROVINCE | CHINA |
| 59 | 159 | S.R. TYRE COMPANY LTD. | AMPHUR SRIMAHOSOD, PRACHINBURI | THAILAND |
| 60 | 160 | OOO Nokian Tyres | Vsevolozhsk, LENINGRAD REGION | RUSSIA |
| 61 | 161 | EU-RETEC (PVT.) LTD. | NAGODA, KALUTARA | SRI LANKA |
| 62 | 162 | CHINA RUIAN LIWANG TYRE MANUFACTORY CO., LTD. | RUIAN, ZHEJIANG | CHINA |
| 63 | 163 | ZHCJIANG HUNTINGTON BULL RUBBER CO., LTD. | FUYANG, ZHEJIAN | CHINA |
| 64 | 164 | HORIZON-ADDIS TYRE SHARE COMPANY | ADDIS ABABA, | ETHIOPIA |
| 65 | 165 | CONTINENTAL DO BRASIL PRODUTOS AUTOMOTIVOS LTDA. | CAMACARI, | BRAZIL |
| 66 | 166 | XINGYUAN TIRE GROUP CO., LTD. | Dongying, SHANDONG | CHINA |
| 67 | 167 | ANLAS LASTIK SANAYI VE TICARET A.S. | DUZCE, | TURKEY |
| 68 | 168 | GUMONDER INDUSTRIAL CORP. | JYI JYI TOWN, NAN TOU HSIEN | TAIWAN |
| 69 | 169 | QINGDAO XIYINGMEN DOUBLE CAMEL TYRE CO., LTD. | QINGDAO, SHANDONG | CHINA |
| 70 | 170 | SHANDONG SANTAI RUBBER CO., LTD. | DONGYING CITY, SHANDONG | CHINA |
| 71 | 171 | OLIVER RUBBER COMPANY | ATHENS, GA | UNITED STATES |
| 72 | 172 | LAIZHOU XIONGYING RUBBER IND., CO. LTD. | LAIZHOU, SHANDONG | CHINA |
| 73 | 173 | TOYO TIRE NORTH AMERICA MANUFACTURING, INC. | WHITE, GA | UNITED STATES |
| 74 | 174 | TIANCI CHEMICAL CO. LTD. | SHANDONG, | CHINA |
| 75 | 175 | SHANDONG ZHONGCHE TYRE CO., LTD. | SHANDONG, SHOUGUANG | CHINA |
| 76 | 176 | DOUBLE COIN GROUP RUGAO TYRE CO., LTD. | RUGAO, JIANG SU | CHINA |
| 77 | 177 | SHANDONG CHENGSHAN TYRE CO. | RONGCHENG, SHANDONG | CHINA |
| 78 | 178 | XINTAI RUBBER CO., LTD. | DONGYING, SHANDONG | CHINA |
| 79 | 179 | CHENG SHIN-PETREL TIRE (XIAMEN) CO., LTD. XIAMEN BRANCH | XIAMEN, FUJIAN | CHINA |
| 80 | 180 | SHANDONG WANDA BOTO TYRE CO., LTD. | DONGYING CITY, SHANDONG | CHINA |
| 81 | 181 | CHENGDE XIANGYAN TYRE CORP. LTD. | PINGQUAN, HEBEI | CHINA |
| 82 | 182 | SHANDONG WANSHINE TIRE CO., LTD. | ZIBO, SHANDONG | CHINA |
| 83 | 183 | SHANDONG HENGFENG RUBBER & PLASTIC CO., LTD. | GUANGRAO COUNTY, SHANDONG | CHINA |
| 84 | 184 | SHIFENG JUXING TIRE CO., LTD. | GAOTANG, SHANDONG PROVINCE | CHINA |
| 85 | 185 | CHONGQING WEIXING RUBBER INDUSTRY CO., LTD. | CHONGQING, CHONGQING | CHINA |
| 86 | 186 | TECHNIC TYRE | BURTON-ON-TRENT, STAFFORDSHIRE | UNITED KINGDOM |
| 87 | 187 | SHANDONG HONGSHENG RUBBER CO., LTD. | GUANGRAO, SHANDONG | CHINA |
| 88 | 188 | QINGDAO OIZHOU RUBBER CO., LTD. | PINGDU,QINGDAO, SHANDONG | CHINA |
| 89 | 189 | MONOTONA TYRES LTD | TALUKA WAD DIST THANE, MAHARASTRA | INDIA |
| 90 | 190 | TOYO TIRE (ZHUCHENG) CO., LTD. | ZHUCHENG, SHANDONG | CHINA |
| 91 | 191 | QINGDAO HUATIAN HAND TRUCK CO., LTD | JIAO NAN QING DAO, SHANDONG | CHINA |
| 92 | 192 | TENGZHOU BRONCHO TYRE CO., LTD. | TENGZHOU, SHANDONG | CHINA |
| 93 | 193 | S.C. PIRELLI TYRES ROMANIA S.R.L. | SLATINA, OLT | ROMANIA |
| 94 | 194 | QINGDAO LONGHAI TIRE MANUFACTURING CO., LTD. | QINGDAO, SHANDONG | CHINA |
| 95 | 195 | JIANGSU GENERAL SCIENCE TECHNOLOGY CO., LTD. | WUXI, JIANGSU | CHINA |
| 96 | 196 | BRIDGESTONE DO BRASIL INDUSTRIA E COMERCIO LTDA./BAHIA | BAHIA, CAMACARI, BAHIA | BRAZIL |
| 97 | 197 | SHANGHAI RHODEN RUBBER CO., LTD. | QING PU DISTRICT, SHANGHAI | CHINA |
| 98 | 198 | BRIDGESTONE (HUIZHOU) TIRE CO., LTD/HUIZHOU | HUIZHOU, GUANG DONG | CHINA |
| 99 | 199 | QINGDAO MALIK INT'L TRADE CO., LTD. | QINGDAO, SHANDONG | CHINA |
| 1Z | 212 | OTANI TIRE CO, LTD. | NAKORNPATHOM | THAILAND |
| 1S | 215 | THAI SIN RUBBER INDUSTRY LTD., PART | KRATUMBAN, SAMUTSAKORN | THAILAND |
| 1G | 216 | HANKOOK TIRE CHINA CO., LTD. | JIAXING, ZHEJIANG | CHINA |
| 2Q | 220 | KENDA RUBBER INDUSTRIAL CO., LTD. | LONG HWA TOWN, GUANGDON | CHINA |
| 2I | 221 | QINDAO GLEN GROUP CO. | QINGDAO, SHANDONG | CHINA |
| 2S | 225 | VREDESTEIN FKR (M'SIA)SDN BHD | Kapar, SELANGOR (DARUL EHSAN) | MALAYSIA |
| 2G | 226 | PT MEGA RUBBER LTD SEMARANG | SEMARANG, JAVA | INDONESIA |
| 3Q | 230 | CONTINENTAL AG | HANNOVER, USA | GERMANY |
| 3S | 235 | CONTINENTAL DO BRASIL PRODUTOS AUTOMOTIVOS LTDA. | PONTA GROSSA PR, | BRAZIL |
| 3G | 236 | TITAN TIRE CORP. OF TEXAS | BROWNSVILLE, TX | UNITED STATES |
| 4Q | 240 | FABRICA URUGUAYA DE NEUMATICOS S.A. (FUNSA) | MONTIEVIDEEO, | URUGUAY |
| 4S | 245 | BELARUS TYRE WORKS BELSHINA | BOBRUISK, MOGILEY REGION | BELARUS |
| 4G | 246 | HENAN TYRE FACTORY | JIAOZUO, HENAN | CHINA |
| 5Q | 250 | RONGCHENG GUOTAI TYRE CO., LTD. | RONGCHENH SHANDONG, | CHINA |
| 5Z | 252 | REFACCIONARIA VALATI S.A. DE C.V. | CIUDAD JUAREZ, CHIHUAHUA | MEXICO |
| 5S | 255 | LANYU AIRCRAFT TIRE DEVELOPMENT CO. | GUILLIN, GUANGXI | CHINA |
| 5G | 256 | HOC MON RUBBER FACTORY | Ho Chi Minh, --- | VIETNAM |
| 6Q | 260 | WEIHAI ZHONGWEI RUBBER CO., LTD. | WEIHAI CITY, SHANDONG, | CHINA |
| 6I | 261 | MICHELIN HUNGARIA TYRE MANUFACTURE LTD. | NYIREGYHAZA, | HUNGARY |
| 6G | 266 | CONTINENTIAL AUTOMOTIVE PRODUCTS S.R.L. | TIMISOARA, | ROMANIA |
| 7I | 271 | P.T. HUNG - A INDONESIA | WEST JAWA, | INDONESIA |
| 7Z | 272 | RONGCHENG RONGDA RUBBER CO., LTD. | SHANDONG, | CHINA |
| 7G | 276 | BRIDGESTONE/FIRESTONE POLAND SP.Z.O.O. | POZNAN, WIELKOPOISKLE | POLAND |
| 8Z | 282 | THE YOKOHAMA RUBBER CO., LTD. ONOMICHI PLANT | ONOMICHI, HIROSHIMA | JAPAN |
| 8S | 285 | PETLAS TIRE INDUSTRY AND TRADE CO. | KIRSEHIR, | TURKEY |
| 8G | 286 | HAIKOU HAIHUA TYRE CO., LTD. | HAIKOU, HAINAN | CHINA |
| 9Q | 290 | CHANGCHUN TIRE LTD. LIABILITY CO. | CHANGCHUN, JILIN | CHINA |
| 9I | 291 | SUNTEC TYRES LTD. | TRICHUR, KERALA | INDIA |
| 9S | 295 | KEE LIBERTY TIRE, INC. | SHANDONG, | CHINA |
| 9G | 296 | WEIFANG YONGGU MFG. CO., LTD. | GAOMI CITY, SHANDONG | CHINA |
| E3 | 1E3 | BRIDGESTONE AMERICAN TIRE OPERATIONS, LLC/LAVERGNE | LAVERGNE, TN | UNITED STATES |
| E4 | 1E4 | HEBEI XIEMEI RUBBER PRODUCTS CO., LTD. | PINGXIANG, HEBEI | CHINA |
| E5 | 1E5 | FIRESTONE SOUTH AFRICA (PTY) LTD. | PORT ELIZABETH, | SOUTH AFRICA |
| E6 | 1E6 | OTANI RADIAL TIRE CO., LTD. | BANGKAEW NAKORNCHAISRI, NAKORNPATHORN | THAILAND |
| E7 | 1E7 | LINGLONG (GUANGXI) TIRE CO., LTD. | LIUZHOU CITY, GUANGXI PROVINCE | CHINA |
| E8 | 1E8 | SERVICE INDUSTRIES LIMITED | GUJRAT, PUNJAB N | PAKISTA |
| E9 | 1E9 | BRIDGESTONE SOUTH AFRICA (PTY) LTD/BRITS | BRITS, NORTH WEST | SOUTH AFRICA |
| | 00A | ZHUCHENG YIHESHENG RUBBER CO., LTD. | ZHUCHENG CITY, SHANDONG | CHINA |
| | 00B | RADIAL TIRE FACTORY | UYEN TOWN, BINH DUONG | VIETNAM |
| | 00C | DELUN TIRE CO., LTD. | ANHUI PROVINCE | CHINA |
| | 00D | JILIN JIXING TIRE CO, LTD. | GAOXIN DISTRICT, JILIN | CHINA |
| | 00E | LINK FORTUNE TYRE TUBE CO., LTD. | HUYEN GO DAU, TINH TAY NINH | VIETNAM |
| | 00F | OPEN JOINT SLOCK COMPANY "OMSKSHINA" | OMSK, | RUSSIA |
| | 00H | NINGBO LONGTIME MACHINE CO., LTD. | NINGBO, ZHEJIANG | CHINA |
| | 00J | JOYALL (WEIHAI )TIRE CO., LTD. | WEIHAI, SHANDONG | CHINA |
| | 00K | ZHONG CE RUBBER (THAILAND) CO., LTD. | PLUAKDAENG, RAYONG | THAILAND |
| | 00L | DONGYING MONDAY RUBBER TECHNOLOGY CO., LTD. | DONGYING, SHANDONG | CHINA |
| | 00M | QINGDAO FUDONG TYRE CO., LTD. | QINGDAO, SHANDONG | CHINA |
| | 00N | WULIAN SENLONG RUBBER CO., LTD. | RIZHAO CITY, SHANDONG | CHINA |
| | 00P | TRISTAR TYRE FACTORY | INSEIN TOWNSHIP, YANGON | MYANMAR |
| | 00R | CEAT KELANI RADIALS (PVT) LIMITED | KELANIYA, | SRI LANKA |
| | 00T | HANKOOK TIRE MANUFACTURING TENNESSEE, LP | CLARKSVILLE, TENNESSEE | USA |
| | 00U | OZKA LASTIK VE KAUCUK SAN TIC, S.A. | KOCAELI, MARMARA | TURKEY |
| | 00V | QINGDAO KUNHUA MACHINERY CO., LTD. | QINGDAO CITY, SHANDONG | CHINA |
| | 00W | QINGDAO ANNAICHI TYRES CO., LTD. | QINGDAO, SHANDONG | CHINA |
| | 00X | JIANXIN TYRE (FUJIAN) CO., LTD. | YONGAN, FUJIAN | CHINA |
| | 00Y | ACE TYRE LTD. | MEDAK DIST, HYDERABAD | INDIA |
| | 01A | TIANJIN HENG TAI GALLOP TECHNOLOGY CO., LTD. | TIANJIN, | CHINA |
| | 01B | GITI TIRE MANUFACTURING (USA) LTD | Richburg, SOUTH CAROLINA | UNITED STATES (USA) |
| | 01C | ATC Tires Pvt. Ltd., Dahej, Gujarat Factory | Samantpore, Taluka-Vagra, GUJARAT | INDIA |
| | 01D | JIANGSU HUA'AN TYRE TECHNOLOGY CO., LTD. | SHUYANG, JIANGSU | CHINA |
| | 01E | TONGLI TYRE CO.,LTD | Jining, SHANDONG | CHINA |
| | 01F | NINGXIA SHENZHOU TIRE CO., LTD. | SHIZUISHAN, NINGXIA | CHINA |
| | 01H | TRELLEBORG WHEEL SYSTEMS AMERICAS, INC. | Spartanburg, SC | UNITED STATES (USA) |
| | 01J | MAXXIS RUBBER INDIA PRIVATE LIMITED | AHMEDABAD, GUJARAT | INDIA |
| | 01K | WEIFANG HUANTAI RUBBER CO., LTD. | Changyi, SHANDONG | CHINA |
| | 01L | SHANDONG JILUER TYRE CO., LTD. | TENGZHOU, SHANDONG | CHINA |
| | 01M | DNA SPECIALTY INC. | COMPTON, CA | UNITED STATES (USA) |
| | 01N | ZHONGCE RUBBER (FUYANG) CO.,LTD | FUYANG, ZHEJIANG | CHINA |
| | 01P | Weihai Huayang Rubber Technology Branch Company | Weihai, SHANDONG | CHINA |
| | 01R | FEDERAL TIRE(GUANYIN) | GUANYIN, TAOYUAN | TAIWAN |
| | 01T | RIZHAO YOUNAI TIRES CO., LTD. | Ju COUNTY, SHANDONG PROVINCE | CHINA |
| | 01U | Weifang Goldshield Tire Co., Ltd. | Weifang, SHANDONG | CHINA |
| | 01V | QINGDAO CENTURY FUNG TIRE CO., LTD. | QINGDAO, SHANDONG | CHINA |
| | 01W | QINGDAO RILI TYRE CO., LTD. | Pingdu, SHANDONG | CHINA |
| | 01X | SHANDONG YUANFENG RUBBER TECHNOLOGY CO., LTD. | Weifang City, SHANDONG | CHINA |
| | 01Y | QINGDAO WANTAI RUBBER PRODUCTS CO., LTD. | Qingdao City, SHANDONG | CHINA |
| | 02A | JIANGSU GUNADE TYRE CO., LTD. | Jiangsu, CHANGZHOU | CHINA |
| | 02B | SUZHOU CHENXIN TIRE CO., LTD. | Wujiang, JIANGSU | CHINA |
| | 02C | OMEXEY RUBBER INDUSTRIAL CORPORATION (VN) | Tan Uyen, BINH DUONG | VIETNAM |
| | 02D | Shanghai Baosteel Wheels Co.,Ltd. | Shanghai, SHANGHAI | CHINA |
| | 02E | SHANDONG DREAMAKER TIRE CO., LTD. | Shandong, | CHINA |
| | 02F | TOYOMOTO CORP. | Beijing, BEIJING | CHINA |
| | 02H | GOLDEN HORSE RUBBER SDN.BHD | PULAU INDAH, SELANGOR | MALAYSIA |
| | 02J | HUAYI GROUP (THAILAND) COMPANY LIMITED | Tumbol SamNaThong, Ambur Muang, RAYONG | THAILAND |
| | 02K | Keich International Tyre Co.,Ltd | Wattana, BANGKOK, | THAILAND |
| | 02L | Shandong Kupo Tire Co., Ltd. | Linyi, SHANDONG | CHINA |
| | 02M | MARKMA TIRE CO., LIMITED | Miaoli City, TAIWAN (R.O.C.) | TAIWAN |
| | 02N | Arsenal SAPI de CV | Qingdao, SHANDONG | CHINA |
| | 02P | Continental Tire - Clinton Plant | Bolton, MISSISSIPPI | UNITED STATES (USA) |
| | 02R | Kenda Rubber Industrial Co., LTD (Indonesia) | Serang, BANTEN | INDONESIA |
| | 02T | Kenda Rubber Industrial Co., LTD (Vietnam) | Trang Bom District, DONG NAI PROVINCE | VIETNAM |
| | 02U | SHANDONG YIWEI RUBBER CO., LTD. | DONGYING, SHANDONG | CHINA |
| | 02V | QINGDAO VISASTONE INDUSTRY &TRADE CO.,LTD | QINGDAO, SHANDONG | CHINA |
| | 02W | SHANDONG MIRAGE TYRES CO.,LTD | Dongying, SHANDONG | CHINA |
| | 02X | Sao Vang Rubber Joint Stock Company | Ha Noi, --- | VIETNAM |
| | 02Y | Qingdao Ailite Rubber Co., Ltd. | Qingdao, SHANDONG | CHINA |
| | 03A | CEAT LIMITED | Nagpur, MAHARASHTRA | INDIA |
| | 03B | Nokian Tyres U.S. Operations LLC | Dayton, TENNESSEE | UNITED STATES (USA) |
| | 03C | DIRECTORATE FOR CONSTRUCTION OF RUBBER PRODUCTS PLANT LLC | Angren, TASHKENT REGION | UZBEKISTAN |
| | 03D | JIANGSU RUNCHANG RUBBER TECHNOLOGY CO., LTD | Suqian, JIANGSU | CHINA |
| | 03E | VEE RUBBER INDIA PRIVATE LIMITED | Ahmedabad, GUJARAT | INDIA |
| | 03F | ROADBOSS RUBBER TECHNOLOGY CO.,LTD | DONGYING, SHANDONG | CHINA |
| | 03H | PT. HA TIRE | Bekasi, JAWA BARAT | INDONESIA |
| | 03J | AGARWAL RUBBER LIMITED | Hyderabad, TELANGANA | INDIA |
| | 03K | Shandong Giki Tyre Co.,Ltd. | Qingdao, SHANDONG | CHINA |
| | 03L | INDUSTRIAS MICHELIN S.A. DE C.V. | Leon, GUANAJUATO | MEXICO |
| | 03M | QINGDAO PUREGAIN TYRE CO., LTD. | Qingdao, SHANDONG | CHINA |
| | 03N | CEAT LIMITED | Kancheepuram, TAMIL NADU | INDIA |
| | 03P | SHANDONG RUNTONG RUBBER CO. LTD. | RIZHAO, SHANDONG | CHINA |
| | 03R | QINGDAO SUMMIT RUBBER INDUSTRY CO.,LTD | QINGDAO CITY, SHANDONG PROVINCE | CHINA |
| | 03T | PINGDU ZIHAI RUBBER MANUFACTORY | Qingdao, SHANDONG | CHINA |
| | 03U | DBL DESIGN | Hurst, TEXAS | UNITED STATES |
| | 03V | LIANYUNGANG TUOXI IMP&EXP CO., LTD | Lianyungang, JIANGSU | CHINA |
| | 03W | HUBEI LINGLONG TYRE CO.,LTD. | Jingmen City, HUBEI | CHINA |
| | 03X | HUNG HAI THINH JOINT STOCK COMPANY | Phu Giao District, BINH DUONG | VIETNAM |
| | 03Y | SUNTOP TIRE (WUXI) CO., LTD | Wuxi, JIANGSU | CHINA |
| | 04A | Love's Truck Solutions, LLC - Milan, TN | Milan, TN | UNITED STATES (USA) |
| | 04B | ACTR COMPANY LIMITED | Go Dau, TAY NINH | VIETNAM |
| | 04C | TECHNIC DO BRASIL LTDA | Santo Andre, SAO PAULO | BRAZIL |
| | 04D | AUTOWHEELS FASHION SDN BHD | SERI KEMBANGAN, SELANGOR | MALAYSIA |
| | 04E | GUANGXI NEW GUILUN RUBBER CO., LTD. | GUILIN, GUANGXI | CHINA |
| | 04H | Suntex Rubber Enterprise Co., Ltd | Taibei, TAIBEI | TAIWAN |
| | 04M | Maxtrek Tyre Manufacturing Malaysia Sdn. Bhd. | KUANTAN, PAHANG | MALAYSIA |
| | 04N | PRINX CHENGSHAN TIRE (THAILAND) CO., LTD. | A Nong Yai, CHONBURI | THAILAND |
| | 04P | SHANDONG YOUSHENG TYRE CO., LTD | Shouguang, SHANDONG | CHINA |
| | 04R | JINHUA DAQIANG RUBBER PRODUCTS INSTITUTE | Jinhua, ZHEJIANG | CHINA |
| | 04T | REIFEN HINGHAUS GMBH | Dissen, NIEDERSACHSEN | GERMANY |
| | 04V | SHANDONG SHENGHAI RUBBER CO., LTD. | DONGYING, SHANDONG | CHINA |
| | 04W | SUNDANCE INDUSTRIES CO., LTD | Samrong Torng, KAMPONG SPEU | CAMBODIA |
| | 04Y | HEDA(SHANDONG)RUBBER TECHNOLOGY CO.,LTD. | DONGYING, SHANDONG | CHINA |
| 0A | 10A | SIAM RUBBER LTD. | KRANTHUMBAN, SAMUTSAKHON | THAILAND |
| 0B | 10B | BRIDGESTONE AMERICAS TIRE OPERATION, LLC/WILSON | WILSON, NORTH CAROLINA | UNITED STATES |
| 0C | 10C | MICHELIN SIAM CO., LTD. | SRI RACHA, CHONBURI | THAILAND |
| 0D | 10D | GUIZHOU TYRE FACTORY | GIYANG, GUIZHOU | CHINA |
| 0E | 10E | BRIDGESTONE/FIRESTONE HISPANIA | TORRELAVEGA, | SPAIN |
| 0F | 10F | INNOVA RUBBER (BENGBU) CO., LTD. | BENABU, ANHUI | CHINA |
| 0H | 10H | TRIANGLE TIRE CO., LTD. | WEIHAI, | CHINA |
| 0J | 10J | BEIJING CAPITAL TIRE CO., LTD. | FANGSHAN DISTRICT, BEIJING, | CHINA |
| 0K | 10K | GUANGZHOU PEARL RIVER RUBBER TYRE LTD | HUADU, GUANGZHOU | CHINA |
| 0L | 10L | MRF LIMITED | KOTTAYAM, KERALA | INDIA |
| 0M | 10M | TRANSPORTATION & ENGINEERING CO. | SMOUHA, ALEXANDRIA, PROVINCE | EGYPT |
| 0N | 10N | ZHCJIANG HUNTINGTON FORLONG RUBBER CO.,LTD. | FUYANG, ZHEJIANG | CHINA |
| 0P | 10P | B.F. GOODRICH DO BRAZIL | ESTADO DE SAO PAULO, CAMPINAL | BRAZIL |
| 0R | 10R | Cheng Shin Rubber (Tianjin Dafeng) Ind. Co. Ltd. | Tianjin, BEICHEN DISTRICT | CHINA |
| 0T | 10T | SUMITOMO RUBBER (CHANGSHU) CO., LTD. | CHANGSHU, JIANGSU | CHINA |
| 0U | 10U | SHANDONG LINGLONG TYRE CO., LTD. | ZHAOYUAN CITY, SHANDONG | CHINA |
| 0V | 10V | HANGZHOU PLANT | HANZHOU ECONOMIC & TECHNOLOGIC, HANGZHOU | CHINA |
| 0W | 10W | VORONEZH OPCO | VORONEZH, | RUSSIA |
| 0X | 10X | ACHIEVOR TIRE | MINTO, NEW BRUNSWICK | CANADA |
| 0Y | 10Y | CHINA QINADAO NO. 6 GROUP 6 LTD. | QINGDAO, SHANDONG, | CHINA |
| 1A | 11A | UNION RUBBER INDUSTRIES COMPANY, LTD. | TAIPEI, TAIWAN | CHINA |
| 1B | 11B | PIRELLI DE VENESUELA, C.A. | VALENCIA, ESTADO CARABOBO | VENEZUELA |
| 1C | 11C | BRIDGESTONE/FIRESTONE NORTH AMERICAN TIRE, LLC. | OKLAHOMA CITY, OKLAHOMA | UNITED STATES |
| 1D | 11D | BRIDGESTONE TIRE JAPAN CO., LTD./SHIMONOSEKI | SHIMONOSEKI, YAMAGUCHI | JAPAN |
| 1E | 11E | LIANOING TYRE FACTORY | LONGCHENG DIS. CHAQ YANG, LIAONING | CHINA |
| 1F | 11F | INDUSTRIA COLOMBIANA DE LLANTAS | | COLOMBIA |
| 1H | 11H | CONTINENTAL TIRE ANDINA S.A. | CUENCA, ECUADOR | ECUADOR |
| 1J | 11J | XIAMEN PETREL RUBBER CO., LTD. | XIAMEN, FUJIAN | CHINA |
| 1K | 11K | DOUBLESTAR DONGFENG TYRE CO., LTD. | SHIYAN, HEBEI | CHINA |
| 1L | 11L | CONTINENTAL TYRE SA (PTY) LTD | NEW BRIGHTON WEST, PORT ELIZABETH | SOUTH AFRICA |
| 1M | 11M | SHANDONG TAISHAN TYRE FACTORY | FEICHENG CITY, SHANDONG PROVINCE | CHINA |
| 1N | 11N | TIANJIN KINGS GLORY TIRE CO., LTD | XI QING QU, TIANJIN | CHINA |
| 1P | 11P | SHANDONG HAOHUA TIRE CO., LTD. | SHOUGUANG, SHANDONG PROVINCE | CHINA |
| 1R | 11R | CHAOYANG LONG MARCH TYRE CO., LTD | CHAOYANG, LIAONING | CHINA |
| 1T | 11T | BRIDGESTONE TIRE MANUFACTURING VIETNAM LLC/HAI PHONG | HAI PHONG, HAI AN | VN |
| 1U | 11U | BRIDGESTONE (TIANJIN) TIRE CO., LTD./TIANJIN | TIANJIN, BEICHEN DISTRIC | CHINA |
| 1V | 11V | THAI BRIDGESTONE CO., LTD. (NONG KHAE PLANT) NONG KHAE | NONG KHAE, SARABURI | THAILAND |
| 1W | 11W | GOODYEAR INDIA LTD | WALUJ AURANGABAD, | INDIA |
| 1X | 11X | SICHUAN LION TYRE CO., LTD. | JIANYANG, SICHUAN | CHINA |
| 1Y | 11Y | SHANDONG HUATAI TYRE CO., LTD. | LAIWU, SHANDONG | CHINA |
| 2A | 12A | JIUH SHUENN ENTERPRISE CO., LTD. | TAICHUNG, TAIWAN | CHINA |
| 2B | 12B | DEESTONE LTD. | OAMNOI, SAMUTSAKOM | THAILAND |
| 2C | 12C | BRIDGESTONE AMERICAS TIRE OPERATIONS, LLC/WARREN | WARREN, TENNESSEE | UNITED STATES |
| 2D | 12D | TOYO TYRE MALAYSIA SILVERSTONE BERHAD | TAIPING, PERAK | MALAYSIA |
| 2E | 12E | FEDERAL TIRE (JIANGXI) LTD. | NANCHANG, JIANGXI PROVINCE | CHINA |
| 2F | 12F | INDUSTRIA COLOMBIANA DE LLANTAS S.A. | CALI-VALLE, | COLOMBIA |
| 2H | 12H | DEWAN TYRES LTD. | MEERUT, | INDIA |
| 2J | 12J | DOUBLE COIN HEAVY-DUTY TIRE CO. | SHANGHAI, | CHINA |
| 2K | 12K | LIAONING LONG MARCH TYRE CO., LTD. | CHAOYANG CITY, LIAONING PROVINCE | CHINA |
| 2L | 12L | QINDAGO TONGTAI RUBBGER FACTORY | QINGDAO CITY, SHANDONG PROVINCE | CHINA |
| 2M | 12M | BRIDGESTONE AMERICAS TIRE OPERATIONS, LLC/BLOOMINGTON | NORMAL, ILLINOIS | UNITED STATES |
| 2N | 12N | QINGDAO ZHENHUA BARROW MANUFACTURING CO., LTD. | QINGDAO, | CHINA |
| 2P | 12P | VIETNAM PLANT | THUAN AN DISTRICT, BINH DUONG | VIETNAM |
| 2R | 12R | P.T. BRIDGESTONE TIRE INDONESIA/ KARAWANG | KARAWANG, TELUK JAMBE | INDONESIA |
| 2T | 12T | WUXI FAR EAST TYRE CO., LTD. | WUXI, JIANGSU | CHINA |
| 2U | 12U | Cheng Shin Tire & Rubber (China) Co. Ltd. | Kunshan, JIANGSU PROVINCE | CHINA |
| 2V | 12V | TRIANGLE (WEIHAI)HUASHENG TYRE CO., LTD. | WEIHAI, SHANDONG PROVINCE | CHINA |
| 2W | 12W | YANTAI TYRE FACTORY | ZHAOYUAN, SHANDONG | CHINA |
| 2X | 12X | HANKOOK TIRE HUNGARY LTD. | RACALMAS, | HUNGARY |
| 2Y | 12Y | YUNNAN TIRE FACTORY | KUNMING YUNNAN PROVINCE, | CHINA |
| 3A | 13A | GITI TIRE(HUALIN) COMPANY,LTD. | MUDANJIANG, HEILONGJIANG PROVINCE | CHINA |
| 3B | 13B | TIANJIN UNITED TIRE AND RUBBER INTERNATIONAL CO., LTD | Tianjin, TIANJIN | CHINA |
| 3C | 13C | GTY TIRE CO., MT. VERNON PLANT | MT. VERNON, ILLINOIS | UNITED STATES |
| 3D | 13D | PETROSHINA JOINT-STOCK COMPANY | SAINT-PETERSBURG, | RUSSIA |
| 3E | 13E | QINGDAO YELLOWSEA RUBBER CO., LTD. | CHENGYANG DISTRICT, QINGDAO, | CHINA |
| 3F | 13F | HEBEI TYRE FACTORY | XINGTAI, HEBEI PROVINCE | CHINA |
| 3H | 13H | BIRLA TYRES | BALASORE, ORISSA | INDIA |
| 3J | 13J | RHODEN (M) SDN BHD | PORT KLANG, SELANGOR DARUL EHSAN | MALAYSIA |
| 3K | 13K | MARANGONI TYRE S.P.A. | ANAGNI, FROSINONE | ITALY |
| 3L | 13L | MICHELIN SIAM CO., LTD. | NONGKAE, SARABURI | THAILAND |
| 3M | 13M | RIDGESTONE AMERICAS TIRE OPERATIONS, LLC/BLOOMINGTON | NORMAL, ILLINOIS | UNITED STATES |
| 3N | 13N | CHONGQING JINDUN RUBBER PRODUCTS CO., LTD. | CHONGQING, CHONGQING | CHINA |
| 3P | 13P | HWA FONG RUBBER (THAILAND) CO., LTD | BANQPOO INDUSTRIAL ESTATE, SAMUTPRAKARN | THAILAND |
| 3R | 13R | SOCIEDADE MICHELIN DE PARTICIPACOES INDUSTRIA A E COMERCIO LTDA - UNDIDADE ITATIAIA | ITATIAIA, RIO DE JANEIRO | BRAZIL |
| 3T | 13T | PT MEGA SAFE TYRE INDUSTRY | SALATIGA, JAWA TENGAH | INDONESIA |
| 3U | 13U | SPECIALTY TIRES OF AMERICA (TENNESSEE) INC. | UNICOI, TENNESSEE | UNITED STATES |
| 3V | 13V | BALKRISHNA INDUSTRIES LTD | WALUJ, AURANGADAD | INDIA |
| 3W | 13W | SHANDONG QI XIA TIRE FACTORY | QI XIA, SHANDONG | CHINA |
| 3X | 13X | TIANJIN TYRE & RUBBER INDUSTRY CO., LTD. | TIANJIN, | CHINA |
| 3Y | 13Y | BRIDGESTONE POZNAN SP.Z.O.O.(POLAND)POZNAN | POZNAN, POZNAN | POLAND |
| 4A | 14A | VEE RUBBER COMPANY, LTD. | | THAILAND |
| 4B | 14B | GOODYEAR CANADA, INC. | NAPANEE, ONTARIO | CANADA |
| 4C | 14C | SOUTH PACIFIC TYRES | SOMERTON, VICTORIA | AUSTRAILIA |
| 4D | 14D | BRIDGESTONE AMERICAS TIRE OPERATION, LLC/WARREN | WARREN, TENNESSEE | UNITED STATES |
| 4E | 14E | ANHUI KAIYUAN TIRE CO., LTD. | HEFEI, ANHUI | CHINA |
| 4F | 14F | Compañia Hulera Tornel, S.A. de C.V. (PLANT #4) | Tultitlan, EDO. DE MEXICO | MEXICO |
| 4H | 14H | SOUTH CHINA TIRE & RUBBER COMPANY, LTD. | PANYU, GUANGZHOU | CHINA |
| 4J | 14J | SVERDLOVSK TIRE MAKING WORKS | | RUSSIA |
| 4K | 14K | TIANJIN TYRE MANFACTURING PLANT | TIANJIN, | CHINA |
| 4L | 14L | CARLISLE TIRE & RUBBER CO., LTD | BU JI TOWN, SHENZHEN | CHINA |
| 4M | 14M | MICHELIN NORTH AMERICA, INC. | GREENVILLE, SOUTH CAROLINA | UNITED STATES |
| 4N | 14N | HWA FONG RUBBER CO.(SUZHOU) CO. LTD. | CHANGSHU, JIANGSU | CHINA |
| 4P | 14P | PT SURYARAYA RUBBERINDO INDUSTRIES | CILEUNGSI, BOGOR, | INDONESIA |
| 4R | 14R | RUMAGUMA A.D. | BELGRADE, | SERBIA |
| 4T | 14T | NANJING KUMHO TIRE CO., LTD. | NANJING, JIANGSOO | CHINA |
| 4U | 14U | YOKOHAMA TIRE PHILIPPINES INC. | Clark Field, PAMPANGA | PHILIPPINES |
| 4V | 14V | CHONCHE AUTO DOUBLE HAPPINESS TYRE CORP., LTD. | TAIYUAN CITY, SHANXI | CHINA |
| 4W | 14W | BRIDGESTONE ACC INDIA LTD./MADHYA PRADESH | MADHYA PRADESH, DHAR | INDIA |
| 4X | 14X | SUPER EAST INDUSTRIAL COMPANY, LTD. | PEITSUN YUNG CHING HIANG, CHANG-HWA | TAIWAN |
| 4Y | 14Y | PRINX CHENGSHAN (SHANDONG) TIRE COMPANY LTD. | RONG CHENG, SHANDONG | CHINA |
| 5A | 15A | VEE RUBBER INTERNATIONAL COMPANY, LTD. | | THAILAND |
| 5B | 15B | TIANJIN CENTURY RUBBER CO., LTD. | TIANJIN, | CHINA |
| 5C | 15C | BRIDGESTONE HISPANIA S.A./BILBAO | BILBAO, BASAURI/VIZCAYA | SPAIN |
| 5D | 15D | BRIDGESTONE AMERICAS TIRE OPERATIONS, LLC/WARREN | WARREN, TENNESSEE | UNITED STATES |
| 5E | 15E | MANFACTURE FRANCAISE DES PNEUMATIQUES MICHELIN | LE PUY EN VELAY, | FRANCE |
| 5F | 15F | Compañia Hulera Tornel, S.A. de C.V. (PLANT #2) | Ciudad de Mexico, MEXICO | MEXICO |
| 5H | 15H | DEERUBBER CO., LTD | OAMMOL, SAMUTSAKORN | THAILAND |
| 5J | 15J | SHANGHAI DA FU RUBBER PLANT | SHANGHAI, | CHINA |
| 5K | 15K | PT MULTISTRADA ARAH SARANA | BEKASI, JAWA BARAT | INDONESIA |
| 5L | 15L | GUILIN SOUTH RUBBER INTERN'L CORP. | GUILIN, GUANGXI | CHINA |
| 5M | 15M | HANKOOK TIRE KUMSAN PLANT | KUMSAN KUN, CHUNG CHONG NAM DO | KOREA |
| 5N | 15N | CHENG SHIN RUBBER (VIETNAM) IND. CO. LTD. | Dongnai, DONGNAI | VIETNAM |
| 5P | 15P | BALKRISHNA INDUSTRIES LTD.(UNIT:BALKRISHNA TYRES) | CHOPANKI,BHIWADI II, DIST.ALWAR(RAJASTHAN) | INDIA |
| 5R | 15R | FALCON TYRES LTD | MYSORE, | INDIA |
| 5T | 15T | BRIDGESTONE DO BRASIL INDUSTRIA E COMERCIO LTDA/SAO | SANTO ANDRE, SAO PAULO | BRAZIL |
| 5U | 15U | JIANGSU FEICHI CO., LTD. | YANCHENG, JIANGSU | CHINA |
| 5V | 15V | SOCIETE DE DEV MECANIQUE-SODEMECA | NOYELLES-LES SECLIN, WATTIGNIES | FRANCE |
| 5W | 15W | GITI TIRE (FUJIAN) COMPANY, LTD. | PUTIAN, FUJIAN PROVINCE | CHINA |
| 5X | 15X | AEOLUS TYRE CO., LTD. | JIAOZUO, HENAN | CHINA |
| 5Y | 15Y | TIANJIN WANDA TYRE GROUP CO., LTD. | YIXINGBU TOWN, BEICHEN DIST., TIANJIN | CHINA |
| 6A | 16A | SHANDONG KAIXUAN RUBBER CO., LTD. | CAO COUNTY, SHANDONG | CHINA |
| 6B | 16B | MT. VERNON PLANT OF GENERAL TIRE, INC. | MT. VERNON, ILLINOIS | UNITED STATES |
| 6C | 16C | BRIDGESTONE HISPANIA, S.A./BURGOS | BURGOS, BURGOS | SPAIN |
| 6D | 16D | HENAN TYRE PLANT | JIAOZUO, HENA PROVINCE | CHINA |
| 6E | 16E | DOUBLE HAPPINESS TYRE IND. CORP., LTD. | TAIYUAN, | CHINA |
| 6F | 16F | CIA HULERA TORNEL | APARTADO POSTAL 16-020, AZCAPOTZALCO | MEXICO |
| 6H | 16H | TVS SRICHAKRA LTD. | MADURAI DISTRICT, TAMILNADU | INDIA |
| 6J | 16J | MITAS A.S. | ZLIN, | CZECH REPUBLIC |
| 6K | 16K | CEAT LIMITED | AURANGABAD, MAHARASHTRA | INDIA |
| 6L | 16L | MABOR DE MOCAMBIQUE, SARL | MAPUTO, | MOZAMBIQUE |
| 6M | 16M | VEE TYRE AND RUBBER CO., LTD. | TAMBOL CHAIMONGKOL, AMPHUR MUA, SAMUTSAKORN | THAILAND |
| 6N | 16N | MEWAT TIRE & RUBBER (P) LTD. | ALWAR, RAJASTHAN | INDIA |
| 6P | 16P | AMTEL KIROV | KIROV, | RUSSIA |
| 6R | 16R | QINGDAO ZHENHUA INDUSTRIAL GROUP CORPORATION | QINGDAO, SHANDONG | CHINA |
| 6T | 16T | BRIDGESTONE/FIRESTONE DO BRAZIL INDUSTRIAL E COMERCIO LTDA. | SANTO ANDRE-EST., SAO PAULO | BRAZIL |
| 6U | 16U | MANUFACTURER FRANCAISE DES PNEUMATIQUES | CLERMONT-FERRAND, | FRANCE |
| 6W | 16W | HWA FONG RUBBER (CHINA) CO., LTD. | CHANGSHU JIANG SU, | CHINA |
| 6X | 16X | GUANGZHOU BOLEX TYRE LTD. | HUADA CITY, GUANGDONG | CHINA |
| 6Y | 16Y | CONTINENTAL MATADOR TIRES S.R.O. | PUCHOV, | SLOVAKIA |
| 7A | 17A | KINGS TIRE INDUSTRIES CO., LTD. | CHAUGHUA, TAIWAN | CHINA |
| 7B | 17B | SHANDONG LONGYUE RUBBER CO., LTD | HEZE CITY, SHANDONG | CHINA |
| 7C | 17C | LAIWU SUNSHINE TYRE CO., LTD. | LAIWU, SHANDONG | CHINA |
| 7D | 17D | HANGZHOU GENERAL RUBBER FACTORY | HANGZHOU, | CHINA |
| 7E | 17E | LIMA CAUCHO S.A. | | PERU |
| 7F | 17F | Cheng Shin Rubber (Xiamen) Ind. Ltd. | Xiamen, JIMEI | CHINA |
| 7H | 17H | SHENYANG SUNSHINE TYRE CO., LTD. | SHENYANG, LIAONING PROVINCE | CHINA |
| 7J | 17J | NORTHWEST GENERAL RUBBER FACTORY | XIANYANG CITY, SHAANXI | CHINA |
| 7K | 17K | FRIENDSHIP RUBBER INDUSTRY (M) SDN BHD | SELANGOR DARUL EHSAN, | MALAYSIA |
| 7L | 17L | GOODYEAR TIRE & RUBBER CO. | SHAHEKOU DISTRICT, | CHINA |
| 7M | 17M | WOLBER S.A. | | FRANCE |
| 7N | 17N | HAOHUA SOUTH (GUILIN) RUBBER, LTD. | GUILIN, GUANGXI | CHINA |
| 7P | 17P | WEIFANG YUELONG RUBBER CO., LTD. | SHOUGUANG, SHANDONG | CHINA |
| 7R | 17R | MRF LIMITED | PONDICHERRY, UNION TERRITORY, PONDICHERRY | INDIA |
| 7T | 17T | P.T. SUMI RUBBER INDONESIA | CIKAMPEK, JAWA BARAT, | INDONESIA |
| 7U | 17U | NANJING KUMHO TIRE CO., LTD TBR | NANJING, JIANGSU | CHINA |
| 7V | 17V | MICHELIN SHENYANG TIRE CO., LTD. | SHANGAI, | CHINA |
| 7W | 17W | SIAMESE TYRE CO., LTD. | MINBURI (SANSAEB), BANGKOK | THAILAND |
| 7X | 17X | BRIDGESTONE/AMERICAS TIRE OPERATIONS, LLC AIKEN | GRANITEVILLE, SC | UNITED STATES |
| 7Y | 17Y | KENDA RUBBER CHINA CO., LTD. | KUNSHAN, JIANGSU, | CHINA |
| 8A | 18A | ZAPATER DIAZ I.C.S.A. TIRE CO. | MUNRO PROV. DE BUENOS AIRES, | ARGENTINA |
| 8B | 18B | BRIDGESTONE AMERICAS TIRE OPERATIONS, LLC/DES MOINES | DES MOINES, IOWA | UNITED STATES |
| 8C | 18C | BRIDGESTONE FRANCE S.A.S./BETHUNE | BETHUNE, PAS-DE-CALAIS | FRANCE |
| 8D | 18D | HANGZHOU GENERAL RUBBER FACTORY | JIANDE, ZHEJIANG | CHINA |
| 8E | 18E | NEXEN TIRE CORPORATION | KYUNGSANGNAM-DO, | SOUTH KOREA |
| 8F | 18F | Apollo Tyres Ltd - Limda | Vadodara District, GUJARAT | INDIA |
| 8H | 18H | CEAT LTD. | NASIK, MAHARASHTRA | INDIA |
| 8J | 18J | JIANGSU HANTA TIRE BIAS PLANT | HUAIYIN, JIANGSU | CHINA |
| 8K | 18K | CHONGGING TYRE CHEIF FACTORY | CHONGQING, SICHUAN | CHINA |
| 8L | 18L | CARLISLE TIRE & RUBBER CO. | POINT FORTIN, | TRINIDAD |
| 8M | 18M | DEESTONE INTERNATIONAL CO., LTD. | NAKORNPRATOM, | THAILAND |
| 8N | 18N | LIANGSHAN DAHUA TYRE CO., LTD. | JINING CITY, SHANDONG | CHINA |
| 8P | 18P | RONGCHENG FENGFU RUBBER CO., LTD. | RONGCHENG CITY, SHANDONG | CHINA |
| 8R | 18R | Qingdao Doublestar Tire Industrial Co., Ltd. | Qingdao, SHANDONG | CHINA |
| 8T | 18T | BRIDGESTONE SOUTH AFRICA HOLDINGS (PTY) LTD/BRITS | BRITS, NORTH WEST | SOUTH AFRICA |
| 8U | 18U | PIRELLI TYRE S.P.A | BICOCCA, MILAN | ITALY |
| 8V | 18V | CHINA HUHHOT RUBBER PLANT | HUHHOT, INNER MONGOLIA | CHINA |
| 8W | 18W | YUNNAN RUBBER GROUP IMP & EXP CORP. | XINGYING DISTRICT KUNMING, YUNNAN | CHINA |
| 8X | 18X | BRIDGESTONE/AMERICAS TIRE OPERATIONS, LLC/AIKEN | GRANITEVILLE, SC | UNITED STATES |
| 8Y | 18Y | KENDA RUBBER (VIETNAM) CO., LTD. | HUYEN THONG NHAT, TINH DONG NAI | VIETNAM |
| 9A | 19A | SIEMESE RUBBER CO., LTD | MINBURI, BANKOK | THAILAND |
| 9B | 19B | BRIDGESTONE/FIRESTONE CANADA INC./JOLIETTE | JOLIETTE, QUEBEC | CANADA |
| 9C | 19C | BRIDGESTONE ITALIA S.P.A./BARI | BARI, BARI | ITALY |
| 9D | 19D | P.T. INDUSTRI KARET DELI | MEDAN, SUMATERA UTARA | INDONESIA |
| 9E | 19E | FIVE STARS INDUSTRIAL CO., LTD | | CHINA |
| 9F | 19F | J.K. INDUSTRIES LTD. | MADHYA PRADESH | INDIA |
| 9H | 19H | JIANGSU TYRE FACTORY | XUZHOU, JIANGSU PROVINCE | CHINA |
| 9J | 19J | GITI GREATWALL TIRE (YINCHUAN) CO. LTD. | YINCHUAN, NINGXIA HUI AUTONOMOUS REGION | CHINA |
| 9K | 19K | RONGCHENG GUOTAI TYRE COMPANY, LTD. | RONGCHENG, SHANDONG | CHINA |
| 9L | 19L | MRF LIMITED | SADASIVAPED, ANDHRA PRADESH | INDIA |
| 9M | 19M | ALEXANDRIA TIRE CO., S.A.E. | AMRIA, ALEXANDRIA | EGYPT |
| 9N | 19N | BALKRISHNA INDUSTRIES LTD.(UNIT.BALKRISHNA TYRES) | CHOPANKI,BHIWADI, ALWAR,RAJASTHAN | INDIA |
| 9P | 19P | QINGDAO TAIFA GROUP CP., LTD. | JIONAN, SHANDONG | CHINA |
| 9R | 19R | QINGDAO JIAONAN ZHONGTAI TYRE CO., LTD. | QINGDAO JIAONAN CITY, SHANDONG | CHINA |
| 9T | 19T | CHENG SHIN TIRE & RUBBER (CHINA) CO., LTD. | KUNSHAN, JIANGSU | CHINA |
| 9U | 19U | GITI TIRE(ANHUI) COMPANY, LTD. | HEFEI, ANHUI PROVINCE | CHINA |
| 9V | 19V | GENERAL TYRE EAST AFRICA, LTD. | ARUSHA, TANZANIA | AFRICA |
| 9W | 19W | SHANDONG HUGERUBBER CO., LTD. | GUANGRAO, SHANDONG | CHINA |
| 9X | 19X | BRIDGESTONE AMERICAS TIRE OPERATIONS. LLC/ALKEN | GRANITEVILLE, SC | UNITED STATES |
| 9Y | 19Y | LANXI FUCHUEN RUBBER CO., LTD | LANXI, ZHEJIANG | CHINA |
| A0 | 1A0 | QINGDAO LIANYI TYRES CO., LTD. | PINGDU, SHANDONG | CHINA |
| A1 | 1A1 | PNEUMATICS MICHELIN | 86-POTIERS, | FRANCE |
| A2 | 1A2 | QINGDAO GREAT RUBBER FACTORY | PINGDU, SHANDONG | CHINA |
| A3 | 1A3 | GENERAL TIRE & RUBBER CO. | MOUNT VERNON, ILLINOIS | UNITED STATES |
| A4 | 1A4 | HUNG-A CO., LTD. | YANGSAN-SI, GYEONGSANGNAM-DO | SOUTH KOREA |
| A5 | 1A5 | T.C. DEBICA S.A. | DEBICA, | POLAND |
| A6 | 1A6 | APOLLO TYRES LTD | Trissur, KERALA | INDIA |
| A7 | 1A7 | THAI BRIDGESTONE CO., LTD.(RANGSIT PLANT) RANGSIT | RANGSIT, PATHUMTHANI | THAILAND |
| A8 | 1A8 | P.T. BRIDGESTONE TIRE INDONESIA/BEKASI | BEKASI, JAWA BARAT | INDONESIA |
| A9 | 1A9 | GENERAL TIRE CO | BRYAN, OHIO | UNITED STATES |
| AA | 1AA | TIANJIN NORMANDY RUBBER CO., LTD. | QIAO SAN DAO, TIANJIN | CHINA |
| AB | 1AB | WEIFANG RUBBER FACTORY | WEIFANG, SHANDONG | CHINA |
| AC | 1AC | SHANDONG HUASHENG RUBBER CO., LTD. | DONGYING CITY, SHANGDONG PROVINCE | CHINA |
| AD | 1AD | SHANDONG YONGFENG TYRES CO., LTD. | LINYI CITY, SHANDONG PROVINCE | CHINA |
| AE | 1AE | GENERAL FABRICA ESPANOIA DEL CAUCHO S.A. | TORRELAVEGO, SANTANDER | SPAIN |
| AF | 1AF | CONTINENTAL MABOR-INDUSTRIA DE PNEUS, S.A. | V.N. Famalicão, | PORTUGAL |
| | 1AG | Compañia Hulera Tornel, S.A. de C.V. (PLANT #5) | Ciudad de Mexico, MEXICO | MEXICO |
| AH | 1AH | SUMITOMO RUBBER AKO LASTIK SANAYI TICARET A.S | TUNEY, CANKIRI | TURKEY |
| AJ | 1AJ | SHANDONG NEW CONTINENT TIRE CO., LTD. | YISHUI, SHANDONG | CHINA |
| AK | 1AK | QINGDAO FUYINGDA RUBBER CO., LTD. | JIMO, SHANDONG | CHINA |
| AL | 1AL | SHANDONG DERUTA TYRE TECHNOLOGY CO., LTD. | YINAN, SHANDONG | CHINA |
| AM | 1AM | QINGDAO LIDINGWEI RUBBER TYRES CO., LTD. | LINYI CITY, SHANDONG | CHINA |
| AN | 1AN | SHANDONG SHEGSHITAILAI RUBBER TECHNOLOGY CO., LTD | QINGZHOU CITY, SHANDONG | CHINA |
| AP | 1AP | MICHELIN NORTH AMERICA,INC | ARDMORE, OKLAHOMA | UNITED STATES |
| AR | 1AR | O.J.S.C. ORDENS OF LENIN AND OCT REVOL. YAROSLAVL | YAROSLAVL, | RUSSIA |
| AT | 1AT | COOPER TIRE & RUBBER COMPANY EUROPE, LTD. | MELKSHAM, WILTSHIRE | ENGLAND |
| AU | 1AU | SHANDONG FUTAIER TIRE CO., LTD. | LINYI, SHANDONG | CHINA |
| AV | 1AV | SHANDONG WOSEN RUBBER CO., LTD. | SHANDONG PROVINCE, | CHINA |
| AW | 1AW | SAMSON TIRE & RUBBER COMPANY, LTD. | TEL AVIV, | ISRAEL |
| AX | 1AX | PHOENIX GUMMIWERKE, A. G. | 2000 HAMBURG 90, | GERMANY |
| AY | 1AY | SHANDONG LUHE GROUP GENERAL CO. | ZHUCHENG, SHANDONG | CHINA |
| B0 | 1B0 | SICHUAN YUANXING RUBBER CO., LTD. | DAYI DISTRICT, SICHUAN PROVINCE | CHINA |
| B1 | 1B1 | MANUFACTURE | LA ROCHESUR-YON, | FRANCE |
| B2 | 1B2 | CONTINENTAL SIME TYRE PJ SDN BERHAD | SELANGOR DARUL EHSAN, | MALAYSIA |
| B3 | 1B3 | MICHELIN NORTH AMERICA (CANADA), INC. | BRIDGEWATER, NOVA SCOTIA | CANADA |
| B4 | 1B4 | MICHELIN HUNGARIAN TYRE MANUFACTURE LTD. | BUDAPEST, | HUNGARY |
| B5 | 1B5 | MICHELIN POLSKA S.A. | OLSZTVN, | POLAND |
| B6 | 1B6 | MICHELIN NORTH AMERICA, INC. | SPARTANBURG, SOUTH CAROLINA | UNITED STATES |
| B7 | 1B7 | MICHELIN NORTH AMERICA, INC. | DOTHAN, ALABAMA | UNITED STATES |
| B8 | 1B8 | SOCIEDADE MICHELIN DE PARTICIPACOES, INDUSTRIA E COMERCIO LTDA - UNIDADE CAMPO GRANDE | CAMPO GRANDE, RIO DE JANEIRO | BRAZIL |
| B9 | 1B9 | MICHELIN NORTH AMERICA, INC. | LEXINGTON, SOUTH CAROLINA | UNITED STATES |
| BA | 1BA | QINGDAO LONGHUA SPECIAL HAND TRUCK CO., LTD. | JIAONAN CITY, QINGDAO, SHANDONG | CHINA |
| BB | 1BB | CHONGQING HANKOOK TIRE CO., LTD. | CHONGQING CITY, OKLAHOMA CHONGQING | CHINA |
| BC | 1BC | PT HANKOOK TIRE INDONESIA | LIPPO CIKARANG, BEKASI | INDONESIA |
| BD | 1BD | HUBEI AULICE TYRE CO., LTD. | HUANGSHI, HUBEI PROVINCE | CHINA |
| BE | 1BE | MICHELIN NORTH AMERICA, INC | TUSCALOOSA, ALABAMA | UNITED STATES |
| BF | 1BF | MICHELIN NORTH AMERICA, INC | WOODBURN, INDIANA | UNITED STATES |
| BH | 1BH | XUZHOU TONGFEI TYRE CO., LTD. | XUZHOU CITY, JIANGSU PROVINCE | CHINA |
| BJ | 1BJ | JIANGSU HANKOOK TIRE CO. LTD. | HUAIYIN, JIANGSU | CHINA |
| BK | 1BK | ANSHAN TYRE CO.,LTD. | ANSHAN, LIAONING | CHINA |
| BL | 1BL | CORPORATION FIANCIARA DEL VALLE S.A. | CALI, | COLOMBIA |
| BM | 1BM | B.F. GOODRICH AUSTRALIA PTY., LTD. | CAMPBELLIFIELD, VICTORIA | AUSTRAILIA |
| BN | 1BN | SHANDONG CHUANGHUA TIRE CO., LTD. | RIZHAO CITY, SHANDONG | CHINA |
| BP | 1BP | SHANDONG YINBAO TYRE GROUP | SHOUGAUNG CITY, SHANDONG | CHINA |
| BR | 1BR | SDF RUBBER CO., LTD. | PUDONG, SHANGHAI | CHINA |
| BT | 1BT | SHANDONG COCREA TYRES CO., LTD. | LINYI CITY, SHANDONG | CHINA |
| BU | 1BU | SHOUGUANG FIREMAX TYRE CO., LTD. | SHOUGUANG, SHADONG | CHINA |
| BV | 1BV | INTERNATIONAL RUBBER INDUSTRIES | JEFFERSONTOWN, KENTUCKY | UNITED STATES |
| BW | 1BW | THE GATES RUBBER COMPANY | DENVER, COLORADO | UNITED STATES |
| BX | 1BX | THE GATES RUBBER COMAPNY | NASHVILLE, TENNESSEE | UNITED STATES |
| BY | 1BY | THE GATES RUBBER COMPANY | LITTLETON, COLORADO | UNITED STATES |
| C0 | 1C0 | KUMHO TIRE TIANJIN CO., INC. | TIANJIN, | CHINA |
| C1 | 1C1 | TECHKING TIRES LIMITED | SHANDONG, | CHINA |
| C2 | 1C2 | SHANDONG BAYI TYRE MANUFACTURE CO. LTD. | ZAOZHUANG CITY, SHANDONG | CHINA |
| C3 | 1C3 | MCCREARY TIRE & RUBBER COMPANY | BALTIMORE, MARYLAND | UNITED STATES |
| C4 | 1C4 | CARLISLE TIRE & WHEEL CO. | CLINTON, TENNESSEE | UNITED STATES |
| C5 | 1C5 | POZNANSKIE ZAKLADY OPON SAMOCHODOWYCH | POZNAN, | POLAND |
| C6 | 1C6 | MITAS, A.S. | PRAHA 10 - SVEHLOVA 1900, | CZECH REPUBLIC |
| C7 | 1C7 | IRONSIDES TIRE & RUBBER CO. | LOUISVILLE, KENTUCKY | UNITED STATES |
| C8 | 1C8 | BRIDGESTONE AMERICAS TIRE OPERATIONS | HSINCHU, HSINCHU | TAIWAN |
| C9 | 1C9 | SEVEN STAR RUBBER COMPANY, LTD. | PIN-TOU HSIAND CHANG, HUA | TAIWAN |
| CA | 1CA | THE MOHAWK RUBBER COMPANY | AKRON, OHIO | UNITED STATES |
| CB | 1CB | THE MOHAWK RUBBER COMPANY | HELENA, ARKANSAS | UNITED STATES |
| CC | 1CC | YOKOHAMA TIRE CORPORATION | SALEM, VIRGINIA | UNITED STATES |
| CD | 1CD | ALLIANCE TIRE & RUBBER COMPANY, LTD. | HADERA, | ISRAEL |
| CE | 1CE | PIRELLI GERMANY A.G. | HOECHST/ODENWALD, | GERMANY |
| CF | 1CF | TITAN TIRE CORPORATION | DES MOINES, IOWA | UNITED STATES |
| CH | 1CH | PIRELLI ARMSTRONG TIRE CORPORATION | HANFORD, CALIFORNIA | UNITED STATES |
| CJ | 1CJ | INOUE RUBBER CO., LTD. | IBI-GUN, GIFU-PREF., | JAPAN |
| CK | 1CK | PIRELLI ARMSTRONG TIRE CORPORATION | MADISON, TENNESSEE | UNITED STATES |
| CL | 1CL | INOUE RUBBER VIETNAM CO., LTD. | ME LINH DISTRICT, VINH PHUC | VIETNAM |
| CM | 1CM | TOYO TYRE MALAYSIA SDN BHD | PERINDUSTRIAN KAMUNTING RAYA, | MALAYSIA |
| CN | 1CN | CONTINENTAL FRANCE S.N.C. | SARREGUEMINES CEDEX, | FRANCE |
| CP | 1CP | CONTINENTAL AG WERK KORBACH | KORBACH, | GERMANY |
| CR | 1CR | QINGDAO GE RUI DA RUBBER CO. (GRT) | Qingdao City, SHANDONG | CHINA |
| CT | 1CT | SHANDONG DURATTI RUBBER CORPORATION CO.,LTD. | QING ZHOU, SHANDONG PROVINCE | CHINA |
| CU | 1CU | CONTINENTAL AG WERK STOECKEN | HANNOVER, | GERMANY |
| CV | 1CV | THE ARMSTRONG RUBBER COMPANY | NATCHEZ, MS | UNITED STATES |
| CW | 1CW | TOYO TIRE & RUBBER CO, LTD. | ITAMI, HYOGO | JAPAN |
| CX | 1CX | TOYO TIRE & RUBBER CO, LTD. | IWANUMA CITY, MIYAGI | JAPAN |
| CY | 1CY | MCCREARY TIRE & RUBBER COMPANY | INDIANA, PENNSYLVANIA | UNITED STATES |
| D0 | 1D0 | KUMHO TIRE (CHANGCHUN ) CO., INC. | CHANGCHUN, JILIN | CHINA |
| D1 | 1D1 | VIKING ASKIM | ASKIM, | NORWAY |
| D2 | 1D2 | BRIDGESTONE AMERICAS TIREOPERATIONS, LLC/LAVERGNE | LAVERGNE, TENNESSEE | UNITED STATES |
| D3 | 1D3 | UNITED TIRE & RUBBER MANUFACTURING COMPANY | COBOURG, ONTARIO | CANADA |
| D4 | 1D4 | DUNLOP INDIA, LTD. | WEST BENGAL, | INDIA |
| D5 | 1D5 | DUNLOP INDIA, LTD. | AMBATTUR, MADRAS | INDIA |
| D6 | 1D6 | FUJIAN HAIAN RUBBER CO. LTD. | PUTIAN CITY, FUJIAN | CHINA |
| D7 | 1D7 | SUMITOMO RUBBER SOUTH AFRICA | LADYSMITH, KWA ZULU NATAL | SOUTH AFRICA |
| D8 | 1D8 | Apollo Tyres South Africa (PTY) Ltd.- Durban | Durban, KWAZULU-NATAL | SOUTH AFRICA |
| D9 | 1D9 | UNITED TIRE & RUBBER COMPANY, LTD. | ETOBICOKE, ONTARIO | CANADA |
| DA | 1DA | SUMITOMO RUBBER USA | BUFFALO, NEW YORK | UNITED STATES |
| DB | 1DB | DOUBLE COIN GROUP (XINJIANG) KUNLUN TYRE CO., LTD | URUMQI CITY, XINJIANG WEIWUER AUTONOMO | CHINA |
| DC | 1DC | DUNLOP TIRE CANADA, LTD. | WHITBY, ONTARIO | CANADA |
| DD | 1DD | SP TYRES UK LTD. | BIRMINGHAM, | ENGLAND |
| DE | 1DE | JIANGSU ROC TYRES CO., LTD. | XUZHOU, JIANGSU | CHINA |
| DF | 1DF | QINGDAO NEWHAWK TIRES CO., LTD. | JIMO QINGDAO, SHANDONG | CHINA |
| DH | 1DH | BRIDGESTONE (SHENYANG) TIRE CO LTD/SHENYANG | SHENYANG, LIAONING | CHINA |
| DJ | 1DJ | QINGDAO ANLI RUBBER CO., LTD. | QINGDAO, SHANDONG | CHINA |
| DK | 1DK | DUNLOP FRANCE S.A. | MONTLUCON CEDEX, | FRANCE |
| DL | 1DL | DUNLOP FRANCE S.A. | AMIENS CEDEX, | FRANCE |
| DM | 1DM | DUNLOP GMBH | HANAU AM MAIN, | GERMANY |
| DN | 1DN | DUNLOP GMBH | JUSTUS VON, LIEBIGSTRASSE | GERMANY |
| DP | 1DP | MATADOR-OMSKSHINA | OMSK, OMSK | RUSSIA |
| DR | 1DR | WEIFANG ANTAI TYRE | CHANGLE COUNTY, WEIFANG, SHANDONG | CHINA |
| DT | 1DT | QINGDAO FUYUAN TYRE CO., LTD. | QINGDAO, SHANDONG | CHINA |
| DU | 1DU | GITI TIRE (YINCHUAN ) COMPANY, LTD. | YINCHUAN, NINGXIA HUI AUTONOMOUS REGION | CHINA |
| DV | 1DV | Apollo Vredestein B.V. - Eschede | Enschede, OVERIJSSEL | NETHERLANDS |
| DW | 1DW | RUBBERFABRIEK VREDESTEIN | DOETINCHEM, | NETHERLANDS |
| DX | 1DX | N.V. BATAAFSCHE RUBBER INDUSTRIE RADIUM | MAASTRICHT, | NETHERLANDS |
| DY | 1DY | DENMAN TIRE CORPORATION | LEAVITTSBURG, OHIO | UNITED STATES |
| EA | 1EA | METZLER, A.G. | 8 MUNCHEN 2, | GERMANY |
| EB | 1EB | PIRELLI GERMANY A.G. | BREUBERG, | GERMANY |
| EC | 1EC | PIRELLI GERMANY A.G. | BREUBERG, | GERMANY |
| ED | 1ED | NIHON MICHELIN TIRE CO., LTD. | OTA, BUNMA | JAPAN |
| EE | 1EE | NITTO TIRE COMPANY, LTD. | SAMUKAWA-MACHI, KANAGAWA-KEN | JAPAN |
| EF | 1EF | HUGH AH TIRE COMPANY, LTD. | CHUNG-KU, SEOUL | KOREA |
| EH | 1EH | BRIDGESTONE TIRE JAPAN CO., LTD./KURUME | KURUME, FUKUOKA | JAPAN |
| EJ | 1EJ | BRIDGESTONE TIRE JAPAN CO., LTD./TOSU | TOSU, SAGA | JAPAN |
| EK | 1EK | BRIDGESTONE TIRE JAPAN CO. LTD. AMAGI | AMAGI, FUKUOKA | JAPAN |
| EL | 1EL | BRIDGESTONETIRE JAPAN CO., LTD./HIKONE | HIKONE, SHIGA | JAPAN |
| EM | 1EM | BRIDGESTONE TIRE JAPAN CO.,/TOKYO | TOKYO, TOKYO | JAPAN |
| EN | 1EN | BRIDGESTONE TIRE JAPAN CO., LTD./NASU | NASU, TOCHIGI | JAPAN |
| EP | 1EP | BRIDGESTONE TIRE JAPAN CO., LTD./TOCHIGI | TOCHIGI, TOCHIGI | JAPAN |
| ER | 1ER | QINGDAO DOUBLESTAR TYRE INDUSTRY CO., LTD. | JIAONAN, QINGDAO, SHANDONG | CHINA |
| ET | 1ET | SUMITOMO RUBBER INDUSTRIES, LTD. | CHUO-KO, KOBE | JAPAN |
| EU | 1EU | SUMITOMO RUBBER INDUSTRIES, LTD. | TOYOTA, AICHI PREFECTURE | JAPAN |
| EV | 1EV | QINGDAO YELLOWSEA RUBBER CO., LTD. | QINGDAO, SHANDONG | CHINA |
| EW | 1EW | WUYI QIANGNAI RUBBER MANUFACTURE CO., LTD. | WUYI CITY, ZHEJIANG | CHINA |
| EX | 1EX | MANUFACTURER FRANCAISE DES PNEUMATIQUES | LA CHAPELLE SAINT-LUC, | FRANCE |
| EY | 1EY | PNEUMATIQUES KLEBER, S.A. | SAAR, | GERMANY |
| F0 | 1F0 | FIDELITY TIRE MANFACTURING CO | NATCHEZ, MISSISSIPPI | UNITED STATES |
| F1 | 1F1 | MICHELIN TYRE PLC | DUNDEE, | SCOTLAND |
| F2 | 1F2 | BRIDGESTONE FIRESTONE VENEZOLANA, C..A./VALENCIA | VALENCIA, CARABOBO | VENEZUELA |
| F3 | 1F3 | MANFACTURE FRANCAISE DES PNEUMATIQUES | ROANNE, | FRANCE |
| F4 | 1F4 | CNB-COMPANHIA NACIONAL DE BORRACHAS | 39-1 OPORTO, | PORTUGAL |
| F5 | 1F5 | FATE S.A.I.C.I. | BUENOS AIRES, | ARGENTINA |
| F6 | 1F6 | TORRELAVEGA FIRESTONE HISPANIA S.A. | TORRELAVEGA, | SPAIN |
| F7 | 1F7 | FIRESTONE HISPANIA S.A. PUENTE SAN MIGUEL | PUENTE SAN MIGUEL, TORRELAVEGA | SPAIN |
| F8 | 1F8 | VIKRANT TYRES LIMITED | MYSORE, KARNATAKA | INDIA |
| F9 | 1F9 | DUNLOP NEW ZEALAND, LTD. | UPPER HUTT, | NEW ZEALAND |
| FA | 1FA | YOKOHAMA TIRE MANUFACTURING MISSISSIPPI, LLC | WEST POINT, MISSISSIPPI | UNITED STATES |
| FB | 1FB | THE YOKOHAMA RUBBER COMPANY, LTD. | WATERI-GUN, MIYE-PREF | JAPAN |
| FC | 1FC | THE YOKOHAMA RUBBER COMPANY, LTD. | | JAPAN |
| FD | 1FD | THE YOKOHAMA RUBBER CO., LTD | | JAPAN |
| FE | 1FE | KUMHO TIRE(CHANGCHUN) CO., INC. | CHANGCHUN, JILIN PROVINCE | CHINA |
| FF | 1FF | MANUFACUTRE FRANCAISE DES PNEUMATIQUES (MICHELIN) | CLERMONT FERRAND, | FRANCE |
| FH | 1FH | MANUFACTURE FRANCAISE DES PNEUMATICS MICHELIN | CLEMONT FERRAND, | FRANCE |
| FJ | 1FJ | MANUFACTURE FRANCAISE DES PNEUMATICS MICHELIN | LA BREDE, | FRANCE |
| FK | 1FK | MANUFACTURE FRANCAISE DES PNEUMATICS MICHELIN | CHOLET, | FRANCE |
| FL | 1FL | MANUFACTURE FRANCAISE DES PNEUMATIQUES MICHELIN | BLANZY, | FRANCE |
| FM | 1FM | MANUFACTURE FRANCAISE DES PNEUMATIQUES MICHELIN | CLERMONT FERRAND, | FRANCE |
| FN | 1FN | MANUFACTURE FRANCAISE DES PNEUMATIQUES MICHELIN | CLERMONT FERRAND, | FRANCE |
| FP | 1FP | STE. D'APPLICATIONS TECHNIQUES | ALGIERS, | ALGERIA |
| FR | 1FR | COAXIAN GUIDESTONE TYRE CO., LTD. | CAOXIAN, SHANDONG, | CHINA |
| FT | 1FT | MICHELIN REIFENWERKE, A.G. & CO. K.G.A.A | BAD KREUZNACH, | GERMANY |
| FU | 1FU | MICHELIN REIFENWERKE, A.G. & CO. K.G.A.A | HALLSTADT, | GERMANY |
| FV | 1FV | MICHELIN REIFENWERKE, A.G. & CO. K.G.A.A | HOMBURG-SAAR, | GERMANY |
| FW | 1FW | MICHELIN REIFENWERKE, A.G. & CO. K.G.A.A | KARLSRUHE, | GERMANY |
| FX | 1FX | S.A. BELGE DU PNEUMATIQUE MICHELIN | LEEUW-ST. PIERRE, ZUEN | BELGIUM |
| FY | 1FY | BALKRISHNA INDUSTRIES LTD | KUTCH, GUJARATH | INDIA |
| H0 | 1H0 | THE GENERAL TYRE & RUBBER COMPANY | KARACHI, | PAKISTAN |
| H1 | 1H1 | MICHELIN ESPANA PORTUGAL S.A. | VALLADOLID, | SPAIN |
| H2 | 1H2 | Kumho Tire Company, Inc | Gwangsan-gu, GWANGJU | SOUTH KOREA |
| H3 | 1H3 | SAVATECH D.O.O. | KRANJ, | SLOVENIA |
| H4 | 1H4 | BRIDGESTONE TIRE JAPAN CO., LTD./HOFU | HOFU, YAMAGUCHI | JAPAN |
| H5 | 1H5 | HUTCHINSON-MAPA | | FRANCE |
| H6 | 1H6 | SHIN HUNG RUBBER COMPANY, LTD. | JINJU, KYUNG NAM | KOREA |
| H7 | 1H7 | LI HSIN RUBBER INDUSTRIAL CO. | CHI-HU, CHANG-HWA | TAIWAN |
| H8 | 1H8 | HSING KWO RUBBER MFG., CO., LTD. | TSZTUNG SHIANG TAIWAN, | CHINA |
| H9 | 1H9 | REIFEN-BERG | CLEVISCHER RING, | GERMANY |
| HA | 1HA | MICHELIN ESPANA PORTUGAL S.A. | ARANDA DE DUERO, | SPAIN |
| HB | 1HB | MICHELIN ESPANA PORTUGAL S.A. | LASARTE-ORIA, GELTOKI KALEA, 22 | SPAIN |
| HC | 1HC | MICHELIN ESPANA PORTUGAL S.A. | VITORIA GASTEIZ, ALAVA | SPAIN |
| HD | 1HD | SOCIETA PER AZONI, MICHELIN ITALIANA | CUNEO, | ITALY |
| HE | 1HE | SOCIETA PER AZIONI, S.P.A. (MICHELIN ITALIANA) | MARENGO (ALESSANDRIA), | ITALY |
| HF | 1HF | CLOSED JOINT STOCK COMPANY "CORDIANT-vOSTOK" | OMSK, | RUSSIA |
| HH | 1HH | SOCIETA PER AZIONI MICHELIN ITALIAN | TORINO, | ITALY |
| HJ | 1HJ | MICHELIN TYRE PLC | BALLYMENA, ANTIRM | N. IRELAND |
| HK | 1HK | SHANDONG XINGHONGYUAN TYRE CO., LTD. | LINYI CITY, SHANDONG | CHINA |
| HL | 1HL | SHANDONG YONJING RUBBER CO., LTD. | DONGYING CITY, SHANDONG | CHINA |
| HM | 1HM | MICHELIN TYRE PLC | STOKE-ON-TRENT, | ENGLAND |
| HN | 1HN | MICHELIN NORTH AMERICA (CANADA), INC. | NEW GLASGOW, NOVA SCOTIA | CANADA |
| HP | 1HP | MANFACTURE SAIGONNAISE DES PNEUMATIQUES MICHELIN | SAIGON, | SOUTH VIETNAM |
| HR | 1HR | QINGDAO TAIFA GROUP, LTD. | QINGDAO, SHANDONG PROVINCE | CHINA |
| HT | 1HT | CEAT, S.P.A. PNEUMATICI VIA LEONCAVALLO | TORINO, | ITALY |
| HU | 1HU | CEAT 10036 | SETTIMO TORINESE, | ITALY |
| HV | 1HV | GENTYRE S.P.A. | | ITALY |
| HW | 1HW | BARUM CONTI SPOL. S.R.O. OTROKOVICE | Otrokavice, | CZECH REPUBLIC |
| HX | 1HX | DOUBLE COIN GROUP (ANHUI) WARIOR TIRE CO., LTD. | ANHUI, | CHINA |
| HY | 1HY | BRIDGESTONE/FIRESTONE NORTH AMERICAN | OKLAHOMA CITY, OKLAHOMA | UNITED STATES |
| J0 | 1J0 | KOREA INOCEE KASEI CO., LTD. | MASAN, | KOREA |
| J1 | 1J1 | PHILLIPS PETROLEUM COMPANY | BARTLESVILLE, OKLAHOMA | UNITED STATES |
| J2 | 1J2 | SHANDONG HAOLONG RUBBER TYRE CO., LTD. | DONGYING, SHANDONG | CHINA |
| J3 | 1J3 | MATADOR RUBBER S.R.O. | PUCHOV, | SLOVAKIA |
| J4 | 1J4 | RUBENA, N.P. | 547 36 NACHOD, | CZECH REPUBLIC |
| J5 | 1J5 | Q TIRES, INC. | GREENVILLE, SOUTH CAROLINA | UNITED STATES |
| J6 | 1J6 | JAROSLAVI TIRE CO. | JAROSLAVI, CZECH REPUBLIC, | RUSSIA |
| J7 | 1J7 | HOOSIER TIRE & RUBBER CORP. | LAKEVILLE, IN | UNITED STATES |
| J8 | 1J8 | DA CHUNG HUA RUBBER INDUSTRIAL CO | SHANGHAI, | CHINA |
| J9 | 1J9 | P.T. INTIRUB | BESAR, JAKARTA | INDONESIA |
| JA | 1JA | LIAONING PERMANENT TYRE CO., LTD. | CHAOYANG CITY, LIAONING | CHINA |
| JB | 1JB | SHANDONG ZHENGXING TYRES CO., LTD. | LINYI, SHANDONG | CHINA |
| JC | 1JC | QRT | QING DAO, SHAN DONG | CHINA |
| JD | 1JD | PT SURYARAYA RUBBERINDO INDUSTRIES | BOGOR, WEST JAVA | INDONESIA |
| JE | 1JE | SHANDONG YONGSHENG RUBBER CO., LTD. | DONGYING, SHANDONG | CHINA |
| JF | 1JF | MILLER TIRE | ADAIRSVILLE, GA | UNITED STATES |
| JH | 1JH | SHANDONG SHUANWANG RUBBER CO., LTD. | DONGYING CITY, SHANDONG | CHINA |
| JJ | 1JJ | NEXEN TIRE CORPORATION | LAIXISHI, QUINGDAO | CHINA |
| JK | 1JK | TOVIC TIRE CO., LTD. | CHANGWON-CITY, | KOREA |
| JL | 1JL | SHANDONG BAYI SAILAN TYRE MANUFACTURER CO., LTD. | ZAO ZHUANG CITY, SHANDONG PROVINCE | CHINA |
| JM | 1JM | SUZHOU PLANT | SUZHOU, JIANGSU | CHINA |
| JN | 1JN | DONGYING FANGXING RUBBER CO., LTD. | DONGYING CITY, SHANDONG | CHINA |
| JP | 1JP | ANHUL PRIMWELL RUBBER & PLASTICS CO., LTD. | HEFEI E & T DEVELOPMENT ZONE, ANHUI | CHINA |
| JR | 1JR | Pirelli Tire LLC | Rome, GEORGIA | UNITED STATES (USA) |
| JT | 1JT | K.R.M. TYRES | BADDI, H.P. | INDIA |
| JU | 1JU | ZHONGCE RUBBER GROUP CO., LTD. | HANGZHOU, ZHEJIANG | CHINA |
| JV | 1JV | FULLRUN TYRE TECH CORP., LTD. | QINGDAO, SHANDONG | CHINA |
| JW | 1JW | AMTEL VORONEZH | VORONEZH, | RUSSIA |
| JX | 1JX | DONGYING XINJINSHAN RUBBER CO., LTD. | DONGYING, SHANDONG | CHINA |
| JY | 1JY | BRIDGESTONE STARGARD SP. Z.O.O./STARGARD | STARGARD SZCZECINSKI, SZCZECINSKI | POLAND |
| K0 | 1K0 | MICHELIN KOREA TIRE COMPANY, LTD. | YANG SAN- KUN, KYUNGSANGNAM, DO | KOREA |
| K1 | 1K1 | PHILLIPS PETROLEUM COMPANY | STOW, OHIO | UNITED STATES |
| K2 | 1K2 | KUMHO TIRE (VIETNAM) CO. LTD. | BINH DUONG PROVINCE, | VIETNAM |
| K3 | 1K3 | KENDA RUBBER INDUSTRIAL CO., LTD. | YUALIN, | TAIWAN |
| K4 | 1K4 | INDUSTRIAS MICHELIN, S.A. DE C.V. | DE QUERETAROSANTIAGO, QUERETARO | MEXICO |
| K5 | 1K5 | VEB REIFENKOMBINAT FURSTENWALDE | | GERMANY |
| K6 | 1K6 | QINGZHOU HUA HAN RUBBER CO. LTD. | QINZHOU CITY, SHANDONG PROVINCE | CHINA |
| K7 | 1K7 | FOSHAN SHUNDE TIAN DI RUBBER CO., LTD. | FOSHAN, GUANG DONG | CHINA |
| K8 | 1K8 | SHANDONG ZHENGFANG TYRE CO., LTD. | TAIAN, SHANDONG | CHINA |
| K9 | 1K9 | TECH RUBBER C0., LTD. | SHETOU, CHANGHUA, | TAIWAN |
| KA | 1KA | SVIZZ-ONE CORPORATION LIMITED | BANGLANE, NAKOMPATHOM | THAILAND |
| KB | 1KB | ZHAOQING JUNHONG CO., LTD. | ZHAOQING, (PROVINCE) GUANGDONG | CHINA |
| KC | 1KC | LIMITED LIABILITY COMPANY "PREMIORI" | Bila Tserkva, KYIV REGION | UKRAINE |
| KD | 1KD | VALSA | BELAYA TSERKOV, KIEV REGION | UKRAINE |
| KE | 1KE | SHANDONG JINYU INDUSTRIAL CO. LTD. | DONGYIN, SHANDONG | CHINA |
| KF | 1KF | SHANDONG LINGLONG TYRE CO., LTD. | ZHAOYUAN, SHANDONG | CHINA |
| KH | 1KH | SHANDONG SANGONG RUBBER CO., LTD. | SHANDONG, | CHINA |
| KJ | 1KJ | SHANDONG PROVINCE SANLI TIRE MANUFACTURE CO., LTD | Heze, SHANDONG | CHINA |
| KK | 1KK | DALIAN TYRE FACTORY CO., LTD. | DALIAN, LIAONING | CHINA |
| KL | 1KL | ANLAS ANADOLU LASTIK SANAYI VE TICARET A.S. | ULUS, ISTANBUL | TURKEY |
| KM | 1KM | THE LEE TIRE & RUBBER CO.(GOODYEAR S.A. COLMAR-BERG) | | GRAND DUCHY OF LUXEMBOURG |
| KN | 1KN | HANGZHOU CHAOYANG RUBBER CO., LTD. | HANGZHOU, ZHEJIANG | CHINA |
| KP | 1KP | SHANDONG ZHUSHENGHUA RUBBER CO., LTD. | DONGYING, SHANDONG | CHINA |
| KR | 1KR | WUXI DOUBLE FLYING | WUXI, JIANGSU | CHINA |
| KT | 1KT | DANANG RUBBER JOINT STOCK COMPANY | DANANG, | VIETNAM |
| KU | 1KU | WEIFANG DAWANG RUBBER PRODUCTS CO., LTD. | CHANGYI, SHANDONG PROVINCE | CHINA |
| KV | 1KV | NANJING TIRE CO., LTD. TBR | NANJING, JIANGSU | CHINA |
| KW | 1KW | SHENGTAI GROUP CO., LTD. | DONGYING, SHANDONG PROVINCE | CHINA |
| KX | 1KX | NEW DONG YUE GROUP CO., LTD. | DONGPING CITY, SHANDONG | CHINA |
| KY | 1KY | DONGYING TIANTONG RUBBER & PLASTIC CO., LTD. | DONGYING CITY, SHANDONG | CHINA |
| L0 | 1L0 | MANUFACTURE FRANCAISE DES PNEUMATIQUES MICHELIN | CLERMONT FERRAND, | FRANCE |
| L1 | 1L1 | GOODYEAR DUNLOP TIRES OPERATIONS SA | Dudelange, NA | LUXEMBOURG |
| L2 | 1L2 | WOOSUNG TIRE CORP. -YANGSAN PLANT | YANSAN-KUN, KYUNGSANGNAM-DO, | SOUTH KOREA |
| L3 | 1L3 | TONG SHIN CHEMICAL PRODUCTS LTD. | SEOUL, | KOREA |
| L4 | 1L4 | S.C. DANUBIANA S.A. | COMUNA POPESTI LEORDENI, SOS. OLTENI EI NR.181 | ROMANIA |
| L5 | 1L5 | BRISA BRIDGESTONE SABANCI/BRISA | BRISA, KOCAELI | TURKEY |
| L6 | 1L6 | CONTINENTAL INDIA LIMITED | MEERUT UP, | INDIA |
| L7 | 1L7 | MITCHELIN ROMANIA SA | ZALAU, SALAJ COUNTY | ROMANIA |
| L8 | 1L8 | DUNLOP ZIMBABWE LTD. | BOMINGTON, BULAWAYE | ZIMBABWE |
| L9 | 1L9 | PANTHER TYRES, LTD. | AINTEE, LIVERPOOL | UNITED KINGDOM |
| LA | 1LA | WUXI YUANGFANG RUBBER ENGINEERING CO. LTD. | WUXI, JIANGSU | CHINA |
| LB | 1LB | SHANDONG FENGYUAN TIRE MANUFACTURING CO., LTD | ZAOZHUANG CITY, SHANDONG | CHINA |
| LC | 1LC | CASUMINA | HO CHI MINH, | VIETNAM |
| LD | 1LD | ZHEJIANG WANXIN RUBBER CO., LTD. | XIANJU, ZHEJIANG | CHINA |
| LE | 1LE | WEIFANG LUTONG RUBBER CO., LTD. | WEIFANG, SHANDONG | CHINA |
| LF | 1LF | CONTINENTAL COMPANY | HEFEI, ANHUI | CHINA |
| LH | 1LH | SPEEDWAYS RUBBER COMPANY | JALANDHAR, PUNJAB | INDIA |
| LJ | 1LJ | SCHEFER COMERCIO INTERNACIONAL. | PINHAIS, PARANA | BRAZIL |
| LK | 1LK | PRODUCTORS NIACIONAL DE LLANTAS S.A. | CALI, | COLOMBIA |
| LL | 1LL | SICUP S.N.C. USINE UNIROYAL | | FRANCE |
| LM | 1LM | CONTINENTAL AG WERK AACHEN | AACHEN, | GERMANY |
| LN | 1LN | UNIROYAL S.A. DE C.V. | MEXICO, D.F. | MEXICO |
| LP | 1LP | SHANDONG ZHENTAI GROUP CO., LTD | GAOMI CITY, SHANDONG | CHINA |
| LR | 1LR | TVS SRICHAKRA LTD. | MELUR TALUK MADURAI, TAMIL NADU | INDIA |
| LT | 1LT | UNIROYAL ENDUSTRI TURK ANONIM SIRKETI | ADAPAZARI, | TURKEY |
| LU | 1LU | UNIROYAL, C.A. | VALENCIA, | VENEZUELA |
| LV | 1LV | GENERAL TIRE CANADA, LTD. | BARRIE, ONTARIO | CANADA |
| LW | 1LW | TRELLEBORG UMMIFARIKS AKTIEBOLAG | TRELLEBORG, | SWEDEN |
| LX | 1LX | MITSUBOSHI BELTING LTD. | NAGATAKU, KOBE | JAPAN |
| LY | 1LY | MITSUBOSHI BELTING LTD. | SHIKOKU, | JAPAN |
| M0 | 1M0 | GUANGRAO YONGLONG RUBBER COMPANY LTD. | DONGYING, SHANDONG | CHINA |
| M1 | 1M1 | SHANDONG VHEAL GROUP CO., LTD | LAOLING CITY, SHANDONG | CHINA |
| M2 | 1M2 | DONGYING HUANTAI RUBBER CO., LTD. | DONGYING, SHANDONG PROVINCE | CHINA |
| M3 | 1M3 | MICHELIN NORTH AMERICA, INC. | GREENVILLE, SOUTH CAROLINA | UNITED STATES |
| M4 | 1M4 | GCR RETREAD SHOP | FONTANA, CA | UNITED STATES |
| M5 | 1M5 | MICHELIN NORTH AMERICA (CANADA), INC. | WATERVILLE, NOVA SCOTIA | CANADA |
| M6 | 1M6 | THE GOODYEAR TIRE & RUBBER COMPANY | LAWTON, OKLAHOMA | UNITED STATES |
| M7 | 1M7 | GOODYEAR DE CHILE, S.A.I.C. | SANTIAGO, | CHILE |
| M8 | 1M8 | APOLLO TIRES LTD. | Ernakulam District, KERALA | INDIA |
| M9 | 1M9 | SHANDONG HAVSTYEAR RUBBER TECHNOLOGY CO., LTD. | DONGYING CITY, SHANDONG | CHINA |
| MA | 1MA | ZHEJIANG ZHONGCHI RUBBER CO., LTD. | SHAOXING, ZHEJIANG | CHINA |
| MB | 1MB | THE GOODYEAR TIRE & RUBBER COMPANY | AKRON, OHIO | UNITED STATES |
| MC | 1MC | THE GOODYEAR TIRE & RUBBER COMPANY | DANVILLE, VIRGINIA | UNITED STATES |
| MD | 1MD | THE GOODYEAR TIRE & RUBBER COMPANY | GADSDEN, ALABAMA | UNITED STATES |
| ME | 1ME | ZHEJIANG YIZHENG TYRE CO. | RUIAN, ZHEJIANG | CHINA |
| MF | 1MF | DANANG RUBBER JOINT STOCK COMPANY (OLD) | DANANG, | VIETNAM |
| MH | 1MH | WEIFANG JINGTONG DA TYRE CO., LTD. | GAOMI CITY, SHAN DONG | CHINA |
| MJ | 1MJ | THE GOODYEAR TIRE & RUBBER COMPANY | TOPEKA, KANSAS | UNITED STATES |
| MK | 1MK | QINGDAO TAIHAO TYRE CO., LTD. | PINGDU CITY, QINGDAO | CHINA |
| ML | 1ML | PT. BANTENG PRATAMA RUBBER | CITEURREUP-BOGOR, JAWA BARAT | INDONESIA |
| MM | 1MM | KENDA TIRE (TIANJIN) CO., LTD. | TIANJIN, | CHINA |
| MN | 1MN | DONG NAI RUBBER FACTORY | DONG NAI PROVINCE | VIETNAM |
| MP | 1MP | BINH LOI RUBBER FACTORY | HO CHI MINH CITY, | VIETNAM |
| MR | 1MR | QINGDAO YELLOWSEA TIRE FACTORY | QINGDAO, SHANDONG PROVINCE, | CHINA |
| MT | 1MT | SUNTOP TIRE (WUXI) CO., LTD | WUXI, JIANG SU | CHINA |
| MU | 1MU | RUAIN JIANDA TYRE MANUFACTURE CO. LTD. | RUIAN, ZHENGJIANG | CHINA |
| MV | 1MV | SHANDONG WONBON RUBBER CO., LTD | DONGYING, SHANDONG | CHINA |
| MW | 1MW | SHENYANG PEACE RADIAL TYRE MANUFACTURING CO., LTD. | SHENYANG, LIAONING | CHINA |
| MX | 1MX | COMPANHIA GOODYEAR DO BRAZIL | SAO PAULO, | BRAZIL |
| MY | 1MY | GOODYEAR DE COLOMBIA, S.A. | CALI, | COLOMBIA |
| N0 | 1N0 | SOUTH PACIFIC TYRES | WEST FOOTSCRAY, VICTORIA | AUSTRAILIA |
| N1 | 1N1 | MALOJA AG. PNEU-UND GUMMIWERKE | GELTERKINDEN, | SWITZERLAND |
| N2 | 1N2 | HURTUBLSE NETREAD, INCORPORATED | TONAWANDA, NEW YORK | UNITED STATES |
| N3 | 1N3 | TOYO TIRE & RUBBER CO., LTD | INABE-GUN, MIE | JAPAN |
| N4 | 1N4 | MICHELIN ROMANIA SA | FLORESTI, PRAHOVA | ROMANIA |
| N5 | 1N5 | PNEUMANT | 84 RIESA, | GERMANY |
| N6 | 1N6 | REIFENWERK HEIDENAU GMBH & CO. | HAUPTSTRASSE 44, HEIDENAU | GERMANY |
| N7 | 1N7 | INTREPRINDEREA DE ANVELOPE CARACAL | | ROMANIA |
| N8 | 1N8 | SHANDONG CASCEN RUBBER IND., LTD. | ZAOZHUANG CITY, SHANDONG PROVINCE | CHINA |
| N9 | 1N9 | PIRELLI PNEUS S.A. | FEIRA DE SANTANA, BAHIA | BRAZIL |
| NB | 1NB | THE GOODYEAR TYRE & RUBBER COMPANY | WOLVERHAMPTON, | ENGLAND |
| NC | 1NC | GOODYEAR FRANCE S.A. | | FRANCE |
| ND | 1ND | DEUTSCHE GOODYEAR G.M.B.H. | PHILIPSBURG BRUCHSAL, | GERMANY |
| NE | 1NE | GUMMIWERKE FUIDA G.M.B.H. | FULDA, | GERMANY |
| NF | 1NF | JINYONG (QINGYUAN) RUBBER INDUSTRIAL CO., LTD | QINGYUAN CITY, GUANGDONG | CHINA |
| NH | 1NH | QINGDAO HUASHENG RUBBER CO., LTD. | PINGDU QINGDAO CITY, SHANDONG | CHINA |
| NJ | 1NJ | GOODYEAR S.A. | | GRAND DUCHY OF LUXEMBOURG |
| NK | 1NK | GOODYEAR INDIA LTD. | DISTRIC GURGAON, HARIANA STATE | INDIA |
| NL | 1NL | THE GOODYEAR TIRE & RUBBER LTD. | BOGOR, | INDONESIA |
| NM | 1NM | TIANJIN XIELI RUBBER PRODUCT LIMITED CO. | TIANJIN, | CHINA |
| NN | 1NN | CHONGQING DRAGON RUBBER PRODUCTS CO., LTD. | CHANGSHOU DISTRICT OF CHONGQIN, CHONGAING | CHINA |
| NP | 1NP | I-GREATEST RUBBER IND. CO., LTD. | HSI-CHUNG HSIANG, CHANG HUA HSIEN | TAIWAN |
| NR | 1NR | SHANDONG RONGCHENG TIRE FACTORY CO. | RONGCHENG, SHANDONG | CHINA |
| NT | 1NT | COMPANIA GOODYEAR DEL PERU | LIMA, | PERU |
| NU | 1NU | QINGDAO HONGHUA TYRE FACTORY | QINGDAO CITY, SHANDONG | CHINA |
| NV | 1NV | WEIFANG HUADONG RUBBER CO., LTD. | SHOUGUANG, SHANDONG | CHINA |
| NW | 1NW | THE GOODYEAR TIRE & RUBBER CO. (S.A.) (PTY) LTD. | UITENHAGE, | SOUTH AFRICA |
| NX | 1NX | WEIFANG ANGU RUBBER INDUSTRY CO., LTD. | SHOUGUANG CITY, SHANGDONG PROVINCE | CHINA |
| NY | 1NY | GOODYEAR (THAILAND) LTD. | BANGKOK, | THAILAND |
| P0 | 1P0 | Apollo Tyres Ltd - Chennai | Kancheepuram District, TAMIL NADU | INDIA |
| P1 | 1P1 | THE GOODYEAR TIRE & RUBBER COMPANY | HEBRON, OH | UNITED STATES |
| P2 | 1P2 | QINGDAO SENTURY TIRE CO., LTD. | JIMO, SHANDON | CHINA |
| P3 | 1P3 | SKEPPLANDA GUMMI, AB | ALVAGEN, | SWEDEN |
| P4 | 1P4 | CARLISLE TIRE & WHEEL COMPANY | JACKSON, TN | UNITED STATES |
| P5 | 1P5 | GENERAL POPO S.A. | SAN LUIS POTOSI, S.L.P. | MEXICO |
| P6 | 1P6 | YONGKANG CITY HUAJIAN SILICON RUBBER CO., LTD. | YONGKANG, ZHEJIANG | CHINA |
| P7 | 1P7 | MAGGION INDUSTRIAS DE PNEUS E MAQUINAS LTDA | GUARULHOS, | BRAZIL |
| P8 | 1P8 | NO. 2 RUBBER PLANT OINGADO | QUINGDAO, SHANGONG | CHINA |
| P9 | 1P9 | MRF LIMITED PB NO.1 PONDA | | INDIA |
| PA | 1PA | GOODYEAR LASTIKLERI TAS, PK 2 | IZMIT, KOCAELI | TURKEY |
| PB | 1PB | CA GOODYEAR DE VENEZUELA | VALENCIA, EDO CARABOBO | VENEZUELA |
| PC | 1PC | THE GOODYEAR TIRE & RUBBER COMPANY OF CANADA LTD | MEDICINE HAT, ALBERTA | CANADA |
| PD | 1PD | XINJIANG KUNLUN ENGINEERING TYRE CO., LTD. | KORLE CITY, XINJIANG | CHINA |
| PE | 1PE | MRF LTD. TRICHY (BLAS TYRE PLANT) | PERAMBALUR DIST, TAMIL NADU | INDIA |
| PF | 1PF | QINGDAO HUAWU RUBBER & PLASTIC CO., LTD. | QINGDAO, SHANDONG | CHINA |
| PH | 1PH | DONGYING DURUN TYRE CO., LTD | DAWANG, DONGYING, SHANDONG | CHINA |
| PJ | 1PJ | THE GOODYEAR TIRE & RUBBER COMPANY | FAYETTEVILLE, NORTH CAROLINA | UNITED STATES |
| PK | 1PK | TITAN TIRE CORPORATION OF FREEPORT | FREEPORT, ILLINOIS | UNITED STATES |
| PL | 1PL | GOODYEAR - SLP, S DE R.L. DE C.V. | SAN LUIS POTOSI, SAN LUIS POTOSI | MEXICO |
| PM | 1PM | QINGDAO CHENGTAI HAND TRUCK CO, LTD | QINGDAO CITY, SHANDONG | CHINA |
| PN | 1PN | SIFUTE INDUSTRIAL GROUP, LTD. | SHANDONG, | CHINA |
| PP | 1PP | SHANDONG GUOFENG RUBBER PLASTIC CO., LTD | Dongying, SHANDONG | CHINA |
| PR | 1PR | WEIHAI PINGAN TYRE CO., LTD. | RONGCHENG, SHANDONG | CHINA |
| PT | 1PT | CEAT LTD. HALOL | BARODA, GUJARAT | INDIA |
| PU | 1PU | ARAI SHOJI CO., LTD. | MINATO-KU, TOKYO | JAPAN |
| PV | 1PV | CENCHENLYN TIRE CO., LTD. | JIMO, SHANDONG | CHINA |
| PW | 1PW | TOYO TIRE & RUBBER CO., LTD. | ZHANGJIAGANG, JIAGANG | CHINA |
| PX | 1PX | TECHNO INNOVATIVE RUBBER ENTERPRISE INC. | SCARBOROUGH, ON | CANADA |
| PY | 1PY | WEIFANG HUARI RUBBER CO., LTD. | SHOUGUANG CITY, SHANDONG, | CHINA |
| R0 | 1R0 | BOULDER CITY PLANT | BOULDER CITY, NEVADA | UNITED STATES |
| R1 | 1R1 | DEZHOU LINGLONG TYRE CO., LTD. | DEZHOU, SHANDONG PROVINCE | CHINA |
| R2 | 1R2 | TIANJIN ZHENXIN RUBBER CO., LTD. | TIAN JIN, | CHINA |
| R3 | 1R3 | ZHEJIANG XINCHANG ZHONGYA INDUSTRY | XINCHANG, ZHEJIANG | CHINA |
| R4 | 1R4 | SHANDONG SHIFENG (GROUP) CO., LTD. | GAOTANG, SHANDONG PROVINCE | CHINA |
| R5 | 1R5 | SHANDONG HENGYU RUBBER CO., LTD. | DONGYING, SHANDONG | CHINA |
| R6 | 1R6 | QINGDAO CHONGKUN INDUSTRIAL DEVELOPMENT CO., LTD. | QINGDAO, SHANDONG PROVINCE | CHINA |
| R7 | 1R7 | CORPORACION DE OCCIDENTE, SA DE CV | EL SALTO, JALISCO | MEXICO |
| R8 | 1R8 | SUMITOMO RUBBER (THAILAND) CO., LTD. | AMPHUR PLUAKDAENG, RAYONG | THAILAND |
| R9 | 1R9 | TAIZHOU JULUN TYRE CO., LTD. | LUNAN,LUQIAO,TAIZHOU, ZHEJIANG | CHINA |
| RA | 1RA | TAIZHOU RENLI TIRE CO., LTD. | TAIZHOU, ZHEJING | CHINA |
| RB | 1RB | BRIDGESTONE NEUMATICOS DE MONTERREY, S.A. DE C.V./ MONTERREY | CINEGA DE FLORES, NUEVO LEON | MEXICO |
| RC | 1RC | QINGAO MAO XIANG RUBBER CO., LTD. | PINGDU, SHANDONG | CHINA |
| RD | 1RD | COOCSA | EL SALTO, JALISCO | MEXICO |
| RE | 1RE | QINGDAO ELITE RUBBER CO., LTD. | QINGDAO, SHANDONG | CHINA |
| RF | 1RF | QINGDAO TIANCHI TYRE CO., LTD. | QINGDAO, SHANDONG | CHINA |
| RH | 1RH | QINGDAO HUASHI INDUSTRIAL PRODUCTS CO., LTD. | QINGDAO, SHANDONG | CHINA |
| RJ | 1RJ | ANLAS ANADOLU LASTIK SANAYII VE TICARET A.S. | DUZCE, | TURKEY |
| RK | 1RK | INNOVATIVE TYRES & TUBES LTD | HALOL (PANCHMAHAL), GUJARAT | INDIA |
| RL | 1RL | INTERNATIONAL MACHINERY & EQUIPMENT (ZHENGZHOU) CO. LTD. | ZHENGZHOU, HENAN | CHINA |
| RM | 1RM | Cooper (Kunshan) Tire Co., Ltd. | Kunshan, JIANGSU | CHINA |
| RN | 1RN | MARANGONI PNEUMATICI | ROVERETO, TN | ITALY |
| RP | 1RP | TAIZHOU TAIYANGFENG RUBBER CO., LTD. | XIANJU COUNTY, ZHEJIANG | CHINA |
| RR | 1RR | BELSHINA | BOBRUISK, | BELARUS |
| RT | 1RT | DONGGUAN HUACHENG TYRE FACTORY | DONGGUAN, GUANGDONG PROVINCE | CHINA |
| RU | 1RU | VIZAHEM | BELGRADE, SERBIA | SERBIA |
| RV | 1RV | ETERNAL RISE TYRE (TIANJIN) CO., LTD. | TIANJIN, | CHINA |
| RW | 1RW | STIP SOCIETE TUNISIENNE DES | KAIROUAN ROAD KM 25, M'SAKEN, SOUSSE | TUNISIA |
| RX | 1RX | PRS TYRES LIMITED | RASIPURAM, TAMIL NADU | INDIA |
| RY | 1RY | SHANDONG CHANGFENG TYRES CO., LTD. | DONGYING CITY, SHANDONG | CHINA |
| T0 | 1T0 | SOUTH PACIFIC TYRES | CAMPBELIFIELD, | CANADA |
| T1 | 1T1 | HANKOOK TIRE MFG. CO., LTD. | SEOUL, | KOREA |
| T2 | 1T2 | OZOS (UNIROYAL) | OLSZTYN, | POLAND |
| T3 | 1T3 | DEBICKIE ZATTLDY OPON SAMOCHODOWYCH | STOMIL, DEVICA | POLAND |
| T4 | 1T4 | S.A. CARIDENG (RUBBERFACTORY) | LANAKEN, | BELGIUM |
| T5 | 1T5 | TIGAR TYRES D.O.O. | PIROT, | SERBIA |
| T6 | 1T6 | QINGDAO YUANDA TYRE CO., LTD. | PINGDU, SHANDONG | CHINA |
| T7 | 1T7 | HANKOOK TIRE MFG. CO., LTD.DAEJEON PLANT | DAEDEOK-GU, DAEJEON | KOREA |
| T8 | 1T8 | GOODYEAR MALAYSIA BERHAD | SELANGOR, | MALAYSIA |
| T9 | 1T9 | MRF LIMITED | | INDIA |
| TA | 1TA | WENDENG SANJING CHEMISTRY CO., LTD. | WENDENG, SHANDONG | CHINA |
| TB | 1TB | SENTURY TIRE (THAILAND) CO., LTD. | SAMNAKTHONG AMPHUR MUEANG, RAYONG | THAILAND |
| TC | 1TC | GOODYEAR DALIAN TIRE COMPANY LTD. | PULANDIAN, DALIAN, | CHINA |
| TD | 1TD | ACME RUBBER IND. CO., LTD. | TIANJHONG TOWNSHIP, CHANGHUA | TAIWAN |
| TE | 1TE | CST Rubber (Zhangzhou) Ind. Ltd. | Longhai, FUJIAN | CHINA |
| TF | 1TF | QINGDAO QIANZHEN TYRE CO., LTD. | PINGDU CITY, SHANDONG | CHINA |
| TH | 1TH | WEIFANG LONGSHAN TYRE CO., LTD. | GAOMI, SHANDONG | CHINA |
| TJ | 1TJ | CHAOYANG LONG MARCH TYRE NEW CO., LTD. | CHAOYANG, LIAONING | CHINA |
| TK | 1TK | YOKOHAMA R.P.Z. | Gryazi City, GAGARIN STR. | RUSSIA |
| TL | 1TL | SICHUAN KALEVEI TECHNOLOGY CO., LTD. | JIANYANG SICHUAN, 641400 | CHINA |
| TM | 1TM | BRIDGESTONE HUIZHOU | HUIZHOU, GUANGDONG | CHINA |
| TN | 1TN | WEIFANG LUYI RUBBER PRODUCTS CO., LTD. | CHANGYI CITY, SHANDONG | CHINA |
| TP | 1TP | DOUBLE COIN GROUP (CHONGQING) TIRE CO., LTD. | MID SHANGHAI, | CHINA |
| TR | 1TR | QINGDAO SHUANGHE TYRE CO., LTD. | PINGDU, SHANDONG | CHINA |
| TT | 1TT | DERUIBAO TIRE CO., LTD. | GUANGRAO, SHANDONG | CHINA |
| TU | 1TU | QINGDAO MOREWIN RUBBERWARE CO., LTD. | JIAONAN, QINGDAO | CHINA |
| TV | 1TV | SHANDONG O'GREEN TYRES CO., LTD. | DONGYING, SHANDONG | CHINA |
| TW | 1TW | SHANDONG HENGYU SCIENCE & TECHNOLOGY CO., LTD. | DONGYING CITY, SHANDONG | CHINA |
| TX | 1TX | WIEGEL RUBBER CO., LTD. | HANDAN, HEBEI PROVINCE, | CHINA |
| TY | 1TY | WIEGEL RUBBER CO., LTD. | QINGDAO, SHANGDONG, | CHINA |
| U0 | 1U0 | SOUTH PACIFIC TYRES | THOMASTOWN, VICTORIA | AUSTRAILIA |
| U1 | 1U1 | LIEN SHIN TIRE CO., LTD. | TA-TSUEN HSIANG, CHANGHUA HSIEN | TAIWAN |
| U2 | 1U2 | SUMITOMO RUBBER INDUSTRIES, LTD. | SHIRAKAWA CITY, FUKUSHIMA PREFECTURE | JAPAN |
| U3 | 1U3 | COOPER TIRE & RUBBER COMPANY SERBIA d.o.o. | KRUSEVAC | SERBIA |
| U4 | 1U4 | GEO. BYERS SONS, INC. | COLOMBUS, OHIO | UNITED STATES |
| U5 | 1U5 | FARBENFABRIKEN BAYER GMBH | | GERMANY |
| U6 | 1U6 | PNEUMANT | DRESDEN, | GERMANY |
| U7 | 1U7 | PNEUMANT | 20 NEUBRANDENBURG, INDUSTRIGELANDE | GERMANY |
| U8 | 1U8 | HSIN FUNG FACTORY OF NANKANG RUBBER CO. | HSIN CHU, | TAIWAN |
| U9 | 1U9 | COOPER TIRE & RUBBER COMPANY | TUPELO, MISSISSIPPI | UNITED STATES |
| UA | 1UA | NEXEN TIRE CORPORATION | CHANGNYEONG-GUN, GYEONGSANGNAM-DO | SOUTH KOREA |
| UB | 1UB | OPEN JOINT STOCK COMPANY YAROSLAVL | YAROSLAVL, | RUSSIA |
| UC | 1UC | SHANDONG FUYU BLUESTONE TYRE CO., LTD. | ZIBO SHANDONG, | CHINA |
| UD | 1UD | MITAS TIRES NORTH AMERICA, INC. | CHARLES CITY, IA | UNITED STATES |
| UE | 1UE | TIUMSUN RUBBER TIRE (WEI HAI) CO., LTD. | WEIHAI, SHANDONG | CHINA |
| UF | 1UF | SHAANXI YANCHANG PETROLEUM GROUP RUBBER CO. | XIANYANG SHAANXI, | CHINA |
| UH | 1UH | SHANDONG YINUO ENGINEERING TYRE CO., LTD. | TENGZHOU CITY, SHANDONG | CHINA |
| UJ | 1UJ | CHINA NATIONAL TYRE & RUBBER GUILIN CO., LTD. | SUQIAO, GUILIN | CHINA |
| UK | 1UK | TOYAMA TYRE CORP., LTD. | XUANWU DISTRICT, BEIJING | CHINA |
| UL | 1UL | Cheng Shin Tire & Rubber (Chongqing) Co. Ltd. | Chongqing, CHANGSHOU DISTRICT | CHINA |
| UN | 1UN | PIRELLII NEUMATICOS S.A. DE C.V. | SILAO, GUANAJUATO, | MEXICO |
| UP | 1UP | COOPER TIRE & RUBBER COMPANY | FINDLAY, OHIO | UNITED STATES |
| UR | 1UR | GOOD FRIEND TYRE CO., LTD. | JIAOZUO, HENAN | CHINA |
| UT | 1UT | COOPER TIRE & RUBBER COMPANY | TEXARKANA, ARKANSAS | UNITED STATES |
| UU | 1UU | CARLISLE TIRE & RUBBER DIVISION | CARLISLE, PENNSYLVANIA | UNITED STATES |
| UV | 1UV | KZOWA RUBBER INDUSTRY CO., LTD. | NISHINARIKU, OSAKA | JAPAN |
| UW | 1UW | OKADA TIRE INDUSTRY LTD. | KATSUSHIKA-KU, TOKYO | JAPAN |
| UX | 1UX | FEDERAL CORPORATION | CHUNGLI, TAOYUAN | TAIWAN |
| UY | 1UY | Cheng Shin Rubber Ind. Co. Ltd. | Ta-Tsun, CHANG-HWA | TAIWAN |
| V0 | 1V0 | SOUTH PACIFIC TYRES | UPPER HUTT, WELLINGTON | NEW ZEALAND |
| V1 | 1V1 | LIVINGSTON'S TIRE SHOP | HUBBARD, OHIO | UNITED STATES |
| V2 | 1V2 | VSEOJUZNOE OJEDINENIC AVTOEXPORT | VOLZHSK, | RUSSIA |
| V3 | 1V3 | TA HSIN RUBBER TIRE COMPANY, LTD. | TUCHEN VILLAGE, TAIPEI HSIENG | TAIWAN |
| V4 | 1V4 | SUMITOMO RUBBER INDUSTRIES, LTD. | MIYAKONOJO CITY, MIYAZAKI PREFECTURE | JAPAN |
| V5 | 1V5 | SHANDONG GUOPENG RUBBER CO., LTD. | SHOUGUANG CITY, SHANDONG PROVINCE | CHINA |
| V6 | 1V6 | BRIDGESTONE DE MEXICO, S.A.DE C.V./CUERNAVACA | CUERNAVACA, MORELOS | MEXICO |
| V7 | 1V7 | VSESOJUZNOE OJEDINERIE AVTOEXPORT | VORONEZH, | RUSSIA |
| V8 | 1V8 | MICHELIN INDIA PVT. LTD. | SIPCOT INDUSTRIALGUMMIDIPOONDI TALUK TIRUVALLUR, | INDIA |
| V9 | 1V9 | M & H TIRE COMPANY | GARDNER, MASSACHUSETTS | UNITED STATES |
| VA | 1VA | SUMITOMO RUBBER (THAILAND) CO., LTD. | AMPHUR PLUAKDAENG, RAYONG, | THAILAND |
| VB | 1VB | ANHUI DARUI RUBBER CO., LTD | WUHU, ANHUI | CHINA |
| VC | 1VC | SHANDONG HAOYU RUBBER CO., LTD. | GUANGRAO COUNTY, SHANDONG | CHINA |
| VD | 1VD | QINGDAO HONGCHI TYRE CO., LTD. | PINGDU, QINGDAO, SHANDONG | CHINA |
| VE | 1VE | BRIDGESTONE AMERICAS TIRE OPERATIONS, LLC/DES MOINES | DES MOINES, IOWA | UNITED STATES |
| VF | 1VF | WEIFANG ZHENFU INDUSTRIAL CO., LTD. | GAOMI CITY, SHANDONG | CHINA |
| VH | 1VH | SUMITOMO RUBBER (HUNAN) CO., LTD | CHANGSHA, HUNAN | CHINA |
| VJ | 1VJ | AEOLUS TYRE., LTD. | JIAOZUO, HENAN | CHINA |
| VK | 1VK | QINGDAO YUANZHOU RUBBER PRODUCTS CO., LTD. | JIAONAN QINGDAO, SHANDONG | CHINA |
| VL | 1VL | CONTINENTAL KALUGA | KALUGA, | RUSSIA |
| VM | 1VM | ZHUCHENG GUOXIN RUBBER CO., LTD. | ZHUCHENG, ALBERTA, SHANDONG | CHINA |
| VN | 1VN | BRIDGESTONE CANADA INC./JOLIETTE | JOLIETE, QUEBEC | CANADA |
| VP | 1VP | BRIDGESTONE ITALIA S.P.A./BARI | BARI, BARI | ITALY |
| VR | 1VR | BRIDGESTONE TATABANYA MANUFACTURING LTD./TATABANYA | TATABÁNYA, KOMYE | HUNGARY |
| VT | 1VT | BRIDGESTONE HISPANIA S.A./BILBAO | BILBAO, BASAURI/VIZCAYA | SPAIN |
| VU | 1VU | UNIVERSAL TIRE COMPANY | LANCASTER, PENNSYLVANIA | UNITED STATES |
| VV | 1VV | BRILAND RUBBER TIRE CO., LTD. | WENZHOU, | P.R. CHINA |
| VW | 1VW | SUMITOMO RUBBER INDUSTRIES, LTD. | IZUMIOTSU CITY, OSAKA | JAPAN |
| VX | 1VX | Weihai Huamao Rubber Science and Technology Branch Company of Triangle Tyre Co.,Ltd. | Weihai, SHANDONG | CHINA |
| VY | 1VY | CONTINENTAL TIRE - SUMPTER | SOUTH SUMTER, NC | UNITED STATES |
| W0 | 1W0 | INOCCE RUBBER CO., INC. | PHATUMTANI, | THAILAND |
| W1 | 1W1 | BRIDGESTONE AMERICAS TIRE OPERATIONS, LLC/LAVERGNE | LAVERGNE, TENNESSEE | UNITED STATES |
| W2 | 1W2 | BRIDGESTONE AMERICAS TIRE OPERATIONS, LLC/WILSON | WILSON, NORTH CAROLINA | UNITED STATES |
| W3 | 1W3 | Vredestein Doetinchem B.V. - Doefinehem | Doetinchem, GELDERLAND | NETHERLANDS |
| W4 | 1W4 | DUNLOP OLYMPIC TYRES | SOMERTON, VICTORIA | AUSTRAILIA |
| W5 | 1W5 | BRIDGESTONE/FIRESTONE ARGENTINA S.A.I.C./B. ARIES | BUENOS AIRES, DE BUENOS AIRES | ARGENTINA |
| W6 | 1W6 | SHANDONG CHANGLU HONG TIRE CO., LTD. | Linyi, SHANDONG | CHINA |
| W7 | 1W7 | JIANGSU CHENGTONG TIRE CO., LTD. | XUZHOU, JIANGSU | CHINA |
| W8 | 1W8 | MICHELIN SIAM CO., LTD. | PRAPRADAENG, SAMUTPRAKARN | THAILAND |
| W9 | 1W9 | BRIDGESTONE INDIA PRIVATE LIMITED/PUNE | MAHARASHTRA, PUNE | INDIA |
| WA | 1WA | BRIDGESTONE FRANCE S.A.S./BETHUNE | BETHUNE, PAS-DE-CALAIS | FRANCE |
| WB | 1WB | BRIDGESTONE DE COSTA RICA/SAN JOSE | SAN JOSE, HEREDIA | COSTA RICA |
| WC | 1WC | SUMITOMO RUBBER DO BRASIL LTDA | SYDNEYFAZENDA RIO GRANDE, PARANA | BRAZIL |
| WD | 1WD | HEBEI TIANRUI RUBBER CO., LTD. | HANDAN, HEBEI PROVINCE | CHINA |
| WE | 1WE | NANKANG RUBBER TIRE CORPORATION | WEST TAIPEI, | TAIWAN |
| WF | 1WF | BRIDGESTONE HISPANIA, S.A./BURGOS | BURGOS, BURGOS | SPAIN |
| WH | 1WH | SHANDONG FENGLUN TYRE CO., LTD. | ZAOZHUANG, SHANDONG, | CHINA |
| WJ | 1WJ | SHANGHAI HANGHONG RUBBER MANUFACTORY | SHANGHAI, | CHINA |
| WK | 1WK | WUYI FENGYUAN MINING MACHINE MANUFACTOR CO.LTD. | WUYII, ZHEJIANG | CHINA |
| WL | 1WL | NINGBO HUALIN | YUYAO, ZHEJIANG | CHINA |
| WM | 1WM | DUNLOP OLYMPIC TYRES | WEST FOOTSERAY, VICTORIA | AUSTRAILIA |
| WN | 1WN | HEBEI STARBRIGHT TIRE CO., LTD. | XINGTAI, HEBEI | CHINA |
| WP | 1WP | Wanli Tire Corporation Limited | Guangzhou, GUANGDONG | CHINA |
| WR | 1WR | JK TYRE & INDUSTRIES LIMITED | KANCHEEPURAM DISTRICT, TAMIL NADU | INDIA |
| WT | 1WT | MADRAS RUBBER FACTORY LTD. | MADRAS, | INDIA |
| WU | 1WU | CEAT TYRES OF INDIA LTD. | BHANDUP,BOMBAY, MAHARASHTRA | INDIA |
| WV | 1WV | GENERAL RUBBER CORPORATION | TAIPEI, | TAIWAN |
| WW | 1WW | EUZKADI COMPANIA HULERA EUZKADI, S.A. | MEXICO CITY, | MEXICO |
| WX | 1WX | EUZKADI COMPANIA HULERA EUZKADI, S.A. | LA PRESA, EO DE | MEXICO |
| WY | 1WY | EUZKADI COMPANIA HULERA EUZKADI, S.A. | GUADAJIARA, JALISCO | MEXICO |
| X0 | 1X0 | VSESOJUZNOE OJEDINENIE AVTOEXPORT | MIZHNEKAMSK, | RUSSIA |
| X1 | 1X1 | TONG SHIN CHEMICAL PRODUCTS. LTD. | YONGDONGPO-KO, SEOUL | KOREA |
| X2 | 1X2 | HWA FONG RUBBER INDUSTRIAL CO., LTD. | CHANG HUA HSIEN, | TAIWAN |
| X3 | 1X3 | CJSC "ROSAVA" | BELAYA TSERKOV, KIEV REGION | RUSSIA |
| X4 | 1X4 | PARS TYRE COMPANY | SAVEH, | IRAN |
| X5 | 1X5 | J.K. INDUSTRIES LTD. | KANKROLI, RAJASTHAN | INDIA |
| X6 | 1X6 | VSESOJUZNOE OJEDINENIE AVTOEXPORT | BOBRUYSK, | RUSSIA |
| X7 | 1X7 | VSESOJUZNOE OJEDINENIE AVTOEXPORT | CHIMKENTSKY, | RUSSIA |
| X8 | 1X8 | DNEPROSHINA JOIN STOCK COMPANY ("DENEPROSHINA" JSC) | DNEPROPETROVSK, | UKRAINE |
| X9 | 1X9 | VSESJUZNOE OJEDINENIE AVTOEXPORT | MOSCOW, | RUSSIA |
| XA | 1XA | PIRELLI TYRE S.P.A. | BOLLATE, MILAN | ITALY |
| XB | 1XB | PIRELLI TYRE S.P.A. | SETTIMO, TORINO | ITALY |
| XC | 1XC | TRELLEBORG WHEEL SYSTEM SPA | TIVOLI, | ITALY |
| XD | 1XD | PT EVOLUZIONE TYRES | WANAKERTA PURWADADI, SUBANG | INDONESIA |
| XE | 1XE | PIRELLI PNEUS S.A. | GRAVATAI, RIO GRANDE DU SUL | BRAZIL |
| XF | 1XF | JIAOZUO PLANT | Jiaozuo, HENAN | CHINA |
| XH | 1XH | PIRELLI KIROV OPCO | KIROV, | RUSSIA |
| XJ | 1XJ | TURK PIRELLI LASTKLERI, S.A. | KOSEKOY, IZMIT | TURKEY |
| XK | 1XK | PIRELLI PNEUS S.A. | SANTO ANDRE, SAO PAULO | BRAZIL |
| XL | 1XL | PIRELLI PNEUS S.A. | CAMPINAS, SAO PAULO | BRAZIL |
| XM | 1XM | PIRELLI NEUMATICOS S.A.I.C. | MERLO, BUENOS AIRES | ARGENTINA |
| XN | 1XN | PIRELLI TYRES LTD. | CARLISLE, CUMBRIA | UNITED KINGDOM |
| XP | 1XP | PIRELLI TYRES LTD. | BURTON-ON-TRENT, STAFFORDSHIRE | UNITED KINGDOM |
| XR | 1XR | QINGDAO MORECHI RUBBER CO., LTD. | JIAONAN, QINGDAO | CHINA |
| XT | 1XT | PIRELLI GERMANY A.G. | HOECHST/ODENWALD, | GERMANY |
| XU | 1XU | SHANDONG ZHONGYI RUBBER CO., LTD. | GUANGRAO, DONGYING, SHANDONG | CHINA |
| XV | 1XV | TOLINS TYRES PVT, LTD. | KALADY ERNAKULAM, KERALA | INDIA |
| XW | 1XW | QINGZHOU HUACHEN RUBBER CO., LTD. | QINGZHOU, SHANDONG PROVINCE | CHINA |
| XX | 1XX | BANDAG, INCORPORATED | MUSCATINE, IOWA | UNITED STATES |
| XY | 1XY | BRIDGESTONE CANADA INC./JOLIETTE | JOLIETTE, QUEBEC | CANADA |
| Y0 | 1Y0 | Kumho Tire Inc, Goksung Factory | Gokseong-Gun, CHOLLANAM-DO | SOUTH KOREA |
| Y1 | 1Y1 | COMPANHIA GOODYEAR DO BRAZIL | AMERICANA, STATE OF SAO PAULO, | BRAZIL |
| Y2 | 1Y2 | BRIDGESTONE AMERICAS TIRE OPERATIONS, LLC/WILSON | WILSON, NC | UNITED STATES |
| Y3 | 1Y3 | SHANDONG GULUN RUBBER CO, LTD. | DEZHOU, SHANDONG | CHINA |
| Y4 | 1Y4 | ATC Tires Pvt. Ltd. | Gangaikondan, TIRUNELVELI | INDIA |
| Y5 | 1Y5 | SHANGHAI MICHELIN TIRE CO., LTD. | SHANGHAI | CHINA |
| Y6 | 1Y6 | SIME TYRES INTERNATIONAL (M) SDN BHD | KEDAH, | MALAYSIA |
| Y7 | 1Y7 | BRIDGESTONE AMERICAN TIRE, LLC. | LAVERGNE, TENNESSEE | UNITED STATES |
| Y8 | 1Y8 | BOMBAY TYRES INTERNATIONAL LTD. | BOMBAY, MAHARASHTRA | INDIA |
| Y9 | 1Y9 | PT. GAJAH TUNGGAL,TBK | TANGERANG, BANTEN | INDONESIA |
| YA | 1YA | MRF LTD-TRICHY (RADIAL TYRE PLANT) | PERAMBALUR DISTRICT, TAMIL NADU | INDIA |
| YB | 1YB | PIRELLI VORONEZH OPCO | VORONEZH, | RUSSIA |
| YC | 1YC | LLIT (THAILAND) CO., LTD. | SRIRACHA, CHONBURI | THAILAND |
| YD | 1YD | BRIDGESTONE TIRE MANUFACTURING C.I.S. LLC/RUSSIA | 1ST CHERDAKINSKY, | RUSSIA |
| YE | 1YE | BRIDGESTONE AMERICAS TIRE OPERATIONS, LLC/DES MOINES | DES MOINES, IA | UNITED STATES |
| YF | 1YF | THE DAYTON TIRE & RUBBER CO. | SOUTH GATE, CA | UNITED STATES |
| YH | 1YH | NUMSIAM RUBBER (LAOS) CO., LTD | SPEN DISTRICT, SAVANNAKHET PROVINCE | LAOS |
| YJ | 1YJ | SAILUN (VIETNAM) CO., LTD. | DONG WARD, GO DAU, TAY NINH | VIETNAM |
| YK | 1YK | SHANDONG ANCHI TYRES CO., LTD. | ZHUCHENG CITY, SHANDONG | CHINA |
| YL | 1YL | NOKIAN TYRE PLC | NOKIA, | FINLAND |
| YM | 1YM | YOKOHAMA INDIA PRIVATE LTD. | Bahadurgarh Industrial Estate, distict Jhajjar, HARYANA | INDIA |
| YN | 1YN | AUNG HTET MYET CO., LTD. | YANGON, MYANMAR, YANGON | MYANMAR |
| YP | 1YP | HANGZHOU SHUNYUAN TIRE MANUFACTURE CO., LTD. | HANGZHOU, ZHEJIANG | CHINA |
| YR | 1YR | QINGDAO HUADA RUBBER PRODUCTION CO., LTD. | JIAONAN, QINGDAO, SHANDONG | CHINA |
| YT | 1YT | BIRLA TYRES,PROP:KESORAM INDUSTRIES LTD. | HARIDWAR, UTTAR KHAND | INDIA |
| YU | 1YU | JSC NIZHNEKAMSKSHINA | NIZHNEKAMSK, REPUBLIC OF TATARSTAN | RUSSIA |
| YV | 1YV | SHANDONG JINWANGDA TIRE CO., LTD. | DONGYING CITY, SHANDONG | CHINA |
| YW | 1YW | ANHUI JICHI TIRE CO.,LTD | Bengbu, ANHUI | CHINA |
| YX | 1YX | NIZHNEKAMSK TRUCK TIRE PLANT LTD. | NIZHNEKAMSK, REPUBLICK OF TATARSTAN | RU |
| YY | 1YY | NASTP LTD. | NIZHNEKAMSK, RP TATARSTAN | RUSSIA |
| AO | 2A0 | WEARWELL TIRE & TUBE CO. (PVT) LTD. | BHOPAL, | INDIA |
| AI | 2A1 | LONGKOU XINGLONG HICON TYRE CO. | LONGKOU, SHANDONG | CHINA |
| AS | 2A5 | QINGDAO QIANJIN RUBBER GROUP | QINGDAO, SHANDONG | CHINA |
| AG | 2A6 | CIA HULERS TORNEL S.A. DE C.V. | LAGO AULLAGAS 60, | MEXICO |
| BO | 2B0 | GENERAL TIRE & RUBBER CO. OF MOROCCO | CASABLANCA - 02, | MOROCCO |
| FS | 2F5 | JINZHOU XIN XING RUBBER PRODUCTION CO., LTD. | INVESTMENT BUREAU, | CHINA |
| FG | 2F6 | LONGKOU XINGLONG TYRE CO., LTD. | LONGKOU, SHANDONG | CHINA |
| HG | 2H6 | CHINA SHENMA GROUP RUBBER TYRE CO., LTD. | PINGDINGSHAN CITY, HENAN PROVINCE | CHINA |
| JG | 2J6 | JILIN PROVINCE CHUNWEI TYRE CO., LTD. | GONGZHULING, JILIN PROVINCE | CHINA |
| PI | 2P1 | GISLAVED DAEK AB | S-332 00 GISLAVED, | SWEDEN |
| TW | 2TW | WEIFANG SHUNFUCHANG RUBBER & PLASTIC CO., LTD. | SHOUGUANG SHANGDONG, | CHINA |
| AQ | 3A0 | CARLISLE TIRE & WHEEL CO. LTD. | MEIXIAN, GUANGDONG, | CHINA |
| QQ | ATL | W TIRE COMPANY | ATLANTA, GEORGIA | UNITED STATES |
| CO | C01 | GOODYEAR LASTIKLERI TAS | ADOPOZARI, | TURKEY |
| XXXX | XXXXXX | WETHERINGTON LAW FIRM | WWW.WFIRM.COM | #GetTheW |