Voted Best Personal Injury Law Firm By Georgia Lawyers
Hiring
TESTIMONIALS
I called Matt after several people recommended him. He was very kind and did a very good job on my son's case. We are very thankful for the work he did. Most importantly, he was never hard to reach and answered every question we had while going through the process. Matt is the only attorney I will ever call in the future.
- Emily
My husband is a cyclist that did not fair well against an SUV recently. Matt and his team took phenomenal care of us, allowing us not to stress out (too much) about the little things. Matt and his team handled everything with professionalism. We know we made the right call.
- Jane
So glad I hired this firm after my rearend car accident. Matt embodies the skill set and values I was looking for. He treats every case like a mini war, and was a zealous advocate on my behalf. And he did so in the most competent and skillful manner. He listened, was empathetic and understood my legal and nonlegal problems.
- Jared
My 85-year old mom was in a motor vehicle accident with an uninsured motorist. His love, thoroughness and commitment to her case helped us through this accident and her cancer treatment. She underwent successful lobectomy and chemotherapy and is doing exceptionally well. We are immensely grateful.
- Lindy
It was important to me to get the maximum money I could for my broken neck and arm. After getting jerked around for months by State Farm, I interviewed several firms and chose Mr. Wetherington. I'm glad I did. He forced the insurance company to pay twenty times their last offer to me.
- Veronica
It is an honor to share my experience with Mr. Wetherington. He was able to get answers about what happened in my son's wreck that other attorney's were not able to do. I am so thankful for the work that he did and he was very thorough in his explanation of why the vehicle had a "defect."
- Anonymous
My case did not settle. The person that hit me only had minimal policy limits. Fortunately, I had my own insurance, which should have provided more money. My insurance company, Allstate, treated me like garbage. We had to sue them and go all the way to trial, which we won.
- Jane Doe
Matt Wetherington is the attorney who is suing the booting companies. We need to do everything we can as a community to help him succeed. God bless you, Mr. Wetherington!
- Michael
The best! Great people and always friendly.
- Jamal
Hiring
We are an Atlanta personal injury law firm. We represent plaintiffs in complex cases involving personal injury, wrongful death, and class actions. Our firm is committed to being the best law firm in the United States. We need people who share our goals and have an earnest desire to make a positive difference in the world.
We offer competitive salaries and exceptional benefits, including:
Healthcare – Firm pays 100% of premiums for employees on a Platinum Kaiser Plan;
Professional Development – All employees are given personalized opportunities to recognize and achieve their professional goals;
Financial Growth – Annual bonuses and raises at the discretion of the firm; and
Personal Time – Our firm offers a generous leave policy, including paid vacations and holidays.
We are currently hiring for the following positions in our Atlanta office: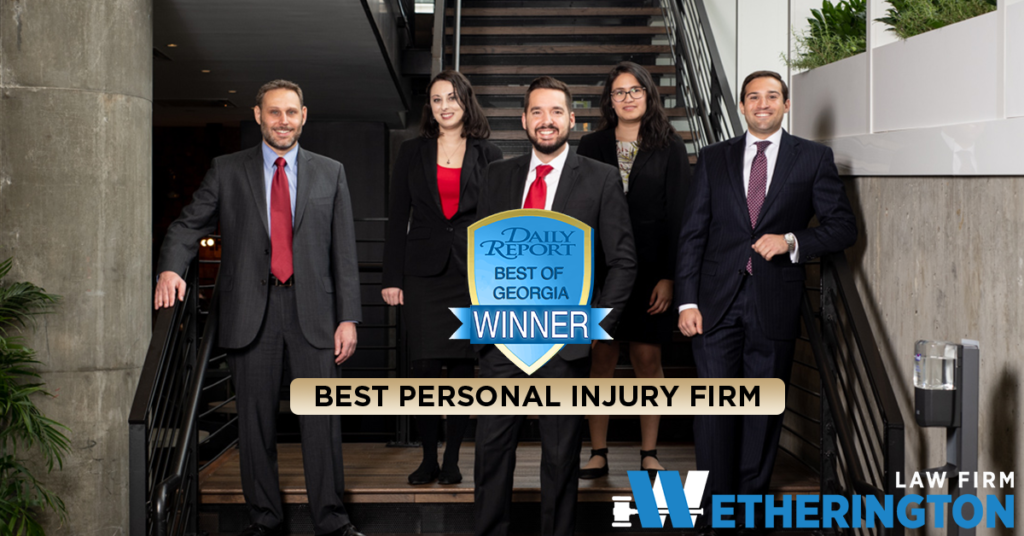 Entry Level Paralegal
We are hiring a litigation paralegal with minimal or no experience. You will primarily work on motor vehicle wrecks and premises liability claims. Prior experience is not required. Apply Here.
Legal Assistant
We are hiring a legal assistant with minimal or no experience. Your primary responsibility will be to support the paralegals of the firm in litigation cases. Apply Here.
Your initial job responsibilities will include:
1. Communicating with clients to obtain updates on their medical treatment and/or obtaining fact information related to their case.
2. Drafting legal documents at the direction of the senior paralegal.
3. Mailing and filing legal documents at the direction of the firm's attorneys.
4. Collecting and scanning the firm's mail.
5. Answering and transferring calls.
2L Law Students
We are currently interviewing second-year law students for a 2023 summer position, which will hopefully result in a full-time associate position in 2024.
We offer a unique opportunity for candidates who are interested in opening their own personal injury or appellate law firm. Over the course of five years, you will receive structured training and an opportunity to work on cases with national significance. You will also receive business, marketing, and personal advancement guidance that is generally not provided to associates at other firms.
Qualifications:
2Ls only;
Exceptional writing skills are required; and
Strong academic background required.
How to Apply:
Send an email to matt@wfirm.com containing the following:
Cover letter detailing why you would like to open a law firm;
Resume; and
Writing sample.
Medical Records Specialist
This role is crucial in supporting our attorneys by ensuring the timely and accurate acquisition of medical records for our clients. No legal experience is required, but the position demands diligence and a strong background in medical billing or medical record management.

Key Responsibilities:

Medical Record Acquisition: Order, track, and acquire medical records from healthcare providers.
Follow-up: Maintain consistent communication with medical facilities to ensure timely receipt of records.
Record Verification: Confirm the completeness and accuracy of received medical records.
Client Communication: Liaise with clients as needed to obtain necessary authorizations and provide updates on record status.
Data Management: Organize and maintain records in a confidential and efficient manner.
Team Collaboration: Work closely with attorneys and legal staff to meet case requirements.
Qualifications
Experience in medical billing, medical records management, or a related field.
Strong organizational and communication skills.
Proficiency in data management and digital record-keeping.
Ability to work independently in a remote setting.
High attention to detail and commitment to diligence.
Compensation: $35,000 to $45,000 per year.
Application Process
Interested candidates should submit a resume and cover letter to hiring@wfirm.com detailing relevant experience and why they are a good fit for this role.
Personal Injury Attorney
If you have less than two years of experience in personal injury litigation, we want to hear from you. We do not care about your grades, prior employment, or law school. We have one of the best attorney development programs in the country and know that we can bring out the best in anyone. Our only requirements are that you (1) share our core values, (2) have excellent writing skills, and (3) wake up every single morning with a determination to outwork the opposition.
To apply, send an email to matt@wfirm.com. Resumes are accepted, but not required.
Defense Lawyers
If you are a defense lawyer who is interested in joining the plaintiff's bar, reach out to Matt Wetherington. He is happy to confidentially answer any questions you have and share advice on making the transition. Even if you don't want to work with us!